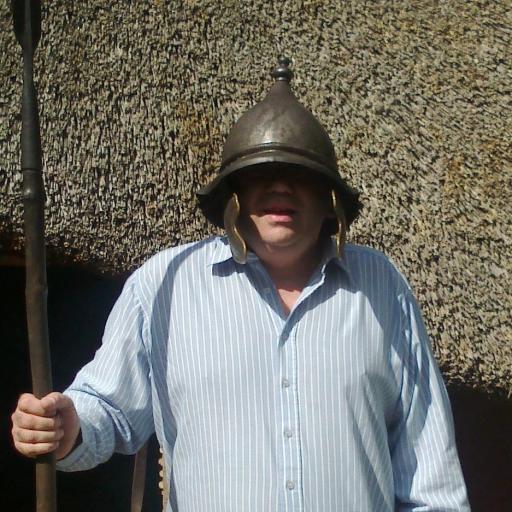 On 20th September 1891, Buffalo Bill Coady and his Wild West Show performed at Cardiff, which was to be the first of many further visits to Wales.
William Cody was riding for the Pony Express when aged 14 and 3 years later, he was serving for the union during the American Civil War. After the war, he worked as a buffalo hunter for the Kansas Pacific railroad, for whom he is said to have shot in excess of 4,000 buffaloes and this is how he got the name Buffalo Bill.  
Bill came to international attention when a report was published about him when he guided the Grand Duke Alexis of Russia on a tour of the wild, which was followed by a series of novels about his adventures as Buffalo Bill, King Of The Border Men. Then in 1883 Bill set up his famous Wild West show, which in 1887 was invited to Britain as part of the celebrations of the Golden Jubilee of Queen Victoria. His party comprised of 500 people including cowboys and Indians, as well as backstage workers and grooms. It also had 180 horses and 18 buffalo as well as elks and Texas longhorn cattle. One of the group was the famous Annie Oakley, who for one for one her tricks, shot a cigar from the mouth of the German Kaiser William I, the grandson of Queen Victoria.
The visit was a great success and he returned in 1891, to tour many cities, including Cardiff, where he performed at Sophia Gardens for three nights, with each show attracting over 20,000 people. Bill returned again in 1902, this time performing in many more venues, on a tour that lasted until 1904 The welsh towns that hosted on this tour were; Aberdare, Aberystwyth, Bangor, Barry Dock, Bridgend, Builth Wells, Cardiff, Carmarthen, Caernarfon, Dolgellau, Ebbw Vale, Holyhead, Llandudno, Llanelli, Neath, Oswestry, Pembroke Dock, Porthmadog, Rhyl, Ruabon, and Swansea .  
---
On 20th September 1950, the rationing of soap ended in Wales and the rest of Britain, with the rationing of other essential commodities, such as butter and sugar continuing until 1954.
 During World War II, the fact that rationing was affecting everyone created a sense of shared sacrifice, however, bread, potatoes, cigarettes and beer, were never rationed, due to the effect that might have on public moral.  
---
The Dowlais Ironworks in Merthyr was founded on 20th September 1750. It was to become recognised as a centre of innovation in the industry and at one time, was the largest steel producer in the UK. It became part of British Steel in 1967, finally closing in 1987.
The works owed much of its initial success to a contract for iron rail for the rapidly expanding railroads and in 1845, it was employing 7,300 people in its 18 furnaces, that were producing 89,000 tonnes of iron per annum. It was also the first place to use the innovative Bessemer Process for mass production of steel and by 1857 owned the most powerful rolling mill in the world.  
---
Actress, Rachel Roberts was born 20th September 1927 in Llanelli.
Initially a stage actress, Roberts made her film debut in 1954 in "The Weak and the Wicked".  She is perhaps best remembered for her role as the love interest of Richard Harris in "This Sporting Life" for which she was nominated for an Oscar award, but also performed memorably in films including "Murder on the Orient Express",  "When a Stranger Calls" and "Charlie Chan and the Curse of the Dragon Queen".
She was married and divorced twice, the second time to Rex Harrison, with the breakup of the relationship leading to her suffering with alcoholism and depression and eventually to her committing suicide on 26th November 1980.
---
Born on this day 1974 in   Suva, Fiji and brought up in Abergavenny
Owen Sheers - poet, author, playwright, actor and TV presenter.  His appointment as writer in residence at the Welsh Rugby Union was the first appointment in that role by any national rugby union team.  
---
Prince Arthur, born on September 20th, 1486, was the eldest son of Henry VII and Elizabeth of York. 
Arthur was so named due to Henry VII's fascination with the legend of King Arthur and his birth at Winchester was significant as it was seen as the spiritual home of King Arthur's Round Table. 
1490 - Arthur was created Prince of Wales.
1501 (November 14th) - Arthur's marriage to Catherine of Aragon was seen as advantageous to both Britain and Spain to the threat posed by France. They set up their household at Ludlow Castle.
1502 (April 2nd) - Arthur fell ill and died and this death led to Henry, his younger brother, becoming the heir to the throne, who as Henry VIII went on to marry Catherine. Later, during their divorce, Henry's claim that Catherine was not a virgin when she married him, was pivotal to their subsequent divorce, in spite of Catherine's insistence to the contrary.  
---
Sir Thomas Salisbury, heir to the Lleweni estate. was one of the conspirators executed by being hanged, drawn and quartered on 20th September 1586, for his involvement in the Babington Plot to murder Queen Elizabeth I and replace her with Mary, Queen of Scots.