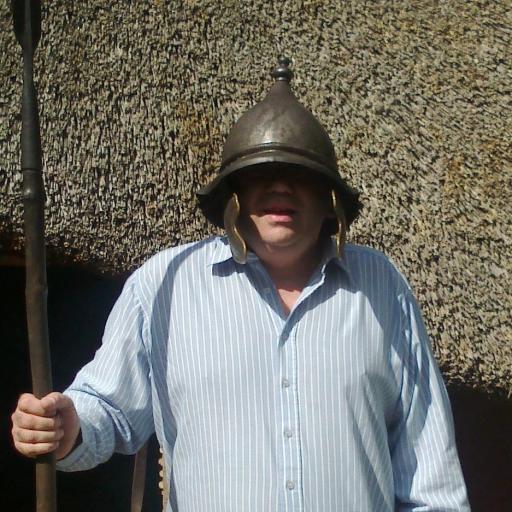 Born on this day in Llandaff, Cardiff in 1916, Roald Dahl, who was one of the most successful children's writers in the world, with in excess of thirty million book sales in the U.K.
Dahl's Norwegian parents had moved to Cardiff, but his father and sister died when he was only three years old.  After school Dahl worked for Shell Petroleum in Africa, before joining the RAF as a pilot during World War II.  He was shot down in Libya, which inspired his first story, 'A Piece of Cake'.  After the war, Dahl married American, Oscar-winning actress, Patricia Neal and settled in Great Missenden, Buckinghamshire It was here that in 1961, inspired by the bedtime stories he told his daughters, he wrote " James and the Giant Peach".  He followed this with his best sellers "Danny the Champion of the World", "The Big Friendly Giant" and "Charlie and the Chocolate Factory" among many others.
Dahl's private life was struck by the tragic death of his daughter Olivia and Patricia, nearly died during the pregnancy of their fifth child and Dahl devoted himself to nursing her back to health.  Later they separated and Dahl married Felicity
Dahl, who died in 1990, wrote for four hours everyday in his little hut in the garden and was particular in using the same brand of pencil and special yellow paper.
---
Born on this day 1520
William Cecil  - chief advisor of Queen Elizabeth I.  At one time or another, he held all the major political posts in the land 
Although born in Bourne, Lincolnshire, Cecil's continued interest in Wales appears in;
i)   The pains he took to establish his Welsh pedigree.  The ancestral name,  'Sitsyllt' was softened down to 'Sissild,' 'Cyssel,' 'Cecild,' and 'Cecil' in the course of the 15th and 16th cent. The Seisyllt's ancestral home is Allt yr Ynys, near Abergavenny and his family had fought for Henry VII at the Battle of Bosworth. 
ii)   His introduction into princess Elizabeth 's household of one of his Brecknock connections, Thomas Parry, who became her Comptroller. 
iii)   His investment in trials for copper in Anglesey.
iv)   His association with Morys Clynog,   who wrote him a letter in Welsh from Rome ( May 1567), warning him of the queen 's impending excommunication.
v)   Cecil's elder son Thomas Cecil, earl of Exeter was equally anxious to establish his Welsh descent and deplored the change in spelling that obscured it. 
Cecil worked very long hours and impressed his colleagues with his ability to hold a seemingly vast amount of information. He became a trusted and indispensable advisor to the Queen whose opinions she relied on.  Although Britain was protestant, Cecil believed in toleration where religion was concerned, as long as Catholics and Puritans remained loyal to the Queen.    However, anyone who betrayed the Queen had to expect the most severe of consequences.  This is thought to be the reason that, Cecil, who saw  Mary, Queen of Scots as  a figurehead that disloyal Catholics could rally around, was instrumental in putting her on trial.
It was Cecil who first employed the Queen's spymaster, Sir Francis Walsingham, whose evidence led to Mary's execution for treason.  Cecil was also highly influential in foreign policy and saw France and Spain as threats to England  and was content to support one at the expense of the other.
---
Born on this day 1755 in Newport, Delaware, to a Welsh family. 
Oliver Evans -  inventor of the automobile
At the end of the 18th century, Philadelphia had become a very busy port, but the harbour was prone to silting up, so Evans was Evans was commissioned by the Philadelphia Board of Health to help dredge out the city's dockyards. In 1804, he designed and built the  Oruktor Amphibolos ( Amphibious Digger),  but at 15 tons and 30 feet long, it was a challenge in itself to get it to the dockyards.  On the first attempt it had collapsed in Philadelphia's Centre Square, proving too heavy to be pulled by horses, so Evans, who had  and had built steam engines for the flour industry previously used one of his steam engines to transport the monstrous digger to the docks.  In so doing he had created the first automobile.  He was, however, unable to capitalise on his invention, due to difficulty in getting financial support and patents and it was left to men such as Richard Trevithick, to further the development of steam-powered transport.
Evans also designed a refrigeration machine which ran on vapor in 1805 and as such is often called the inventor of the refrigerator, although he never built one and his design was modified by Jacob Perkins, who obtained the first patent for a refrigerating machine in 1834.
---
On 13th September 2010, archaeologists digging at a site in south Wales uncovered an entire suit of Roman armour and some weapons. 
The discovery was made at the fortress of Caerleon and was only the third or fourth to be found in the UK, and the first in Wales. 
The suit was found alongside a number of copper and bronze studs and hinges and was in remarkably good condition considering Roman armour was usually made of iron.
Caerleon (Isca), which dates from AD 75 and was occupied for between 200 and 300 years, was one of three permanent legionary fortresses in the UK and was built to house 5,500 Roman citizens. 
fghfhffg
---
13th September 1972- Hypermarkets made their debut in the United Kingdom some twenty years after first appearing in France, when French retail giant Carrefour opened a hypermarket in Caerphilly.
fghfhffg
fghfhffg
..
---
On the Black Hill, directed by Andrew Grieve and based on the novel of the same name by Bruce Chatwin was premiered on 13th September 1988. 
On the Black Hill begins in 1900 with the marriage of dour, puritanical Welsh farmer Amos Jones (Bob Peck) to his social superior, vicar's daughter Mary Latimer (Gemma Jones).  Through her connections, they are able to rent a local farm, 'The Vision', which causes resentment in their relationship. Their twins Lewis (Robert Gwilym) and Benjamin (Mike Gwilym) grow up through wars, romance and separation and are still farming at 'The Vision' eighty years later. 
Welsh locations for the film included The Black Mountains, Hay-on-Wye and Crickhowell, with props and furniture loaned from local people and appropriate garments knitted by the local WI.
,,
,,
..
---
Born on this day 1964 in Cardiff
Paul Bodin  former Wales soccer international, who played the majority of his career for Swindon Town.  He memorably missed a penalty in the decisive 1994 World Cup qualifier at home to Romania. With the score at 1-1, victory would have secured qualification and Wales were awarded a penalty.  Bodin, normally an excellent penalty taker, took on the responsibility of the kick, but under the immense pressure caused by the enormity of the outcome, hammered the penalty against the bar. Wales went on to lose the match 2-1 and it has been  judged one of the most heartbreaking moments in Welsh sporting history.  Bodin was distraught, but in time has found peace with what had happened.   He is a sensible, dignified man who commendably states that  "I became a better person for what happened"