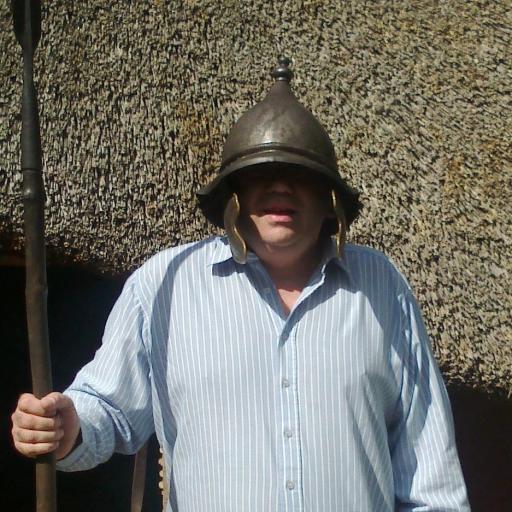 Born on this day 1951 in Kidwelly
Ray Gravell - former Wales and Lions rugby international
Born in Kidwelly, the son of a collier, Gravell moved to Mynydd Y Garreg at a young age with his family and was educated at Burry Port Secondary Modern School and Carmarthen Grammer School.  He played club rugby for Llanelli and was a member of the team that beat the All Blacks in 1972, eventually going on to captain the club for two seasons from 1980 to 1982.   He made 23 appearances for Wales and played in two Grand Slam winning sides.  In his later career, he would become a respected broadcaster and was also the Grand Sword Bearer of the Gorsedd of Bards, known by his bardic name Ray o'r Mynydd. 
In 2000, he was diagnosed with diabetes which resulted in his right leg being amputated below the knee.  Just six months after the operation, Gravell died of a heart attack on 31 October 2007.  A public funeral was held at Stradey Park, attended by up to ten thousand mourners from all over Wales. Gravell's coffin was carried on to the field by six Llanelli players and during the ceremony, the scoreboard read "Llanelli 9 Seland Newydd 3", just as it did at the end of that famous match in 1972.
At the Wales v France match at the Millenium Stadium in March 2008, Gravell's daughters, Gwenan and Manon, led the Wales team on to the pitch carrying the Triple Crown plate and in the same match, members of the coaching staff wore number 13 shirts bearing Gravell's name .  
---
Born on this day 1942 in Bancyfelin, near Carmarthen
Delme Thomas - former Wales and Lions rugby international.   As a player Thomas never took a backward step and is best remembered as a warrior like captain of Llanelli RFC.
A quietly spoken man who led by example, his emotional pre-match speech before Llanelli's famous victory against the All Blacks in 1972, moved players to tears and has gone down in rugby legend.  
At the National Eisteddfod in Llanelli in 2000, Thomas was inducted into the Gorsedd of the Bards, in recognition of his contributions to the Welsh language and to Welsh sport .
---
Born on this day 1939 in Carmarthen
Dennis Coslett - political activist and a member of the Free Wales army, who along with Cayo Evans was imprisoned for 15 months for public order offences in the period just before the Investiture of Prince Charles at Caernarfon in 1969.
At 18, Coslett joined the Royal Welch Fusiliers and later became a coal mine shot firer, where after an industrial accident, he lost the sight of his left eye.
Following, what he saw as Plaid Cymru's insufficient protest to the flooding of the Tryweryn valley in 1965 to provide water supplies for Liverpool, he joined the Free Wales Army, with its aim of independence for Wales.
After his release from prison, Coslett began writing as a career having two books published,"Rebel Heart" and "Patriots and Scoundrels"  
---
Born on this day 1954 in Cardiff
Sir Michael Jonathan Moritz -  Wales' richest person, estimated as having a fortune of £558 million.
Moritz was educated at Howardian High School in Cardiff before graduating from Christ Church, Oxford with a BA in history. Soon after leaving university he headed to the USA where he worked as a journalist for Time magazine before joining venture capital firm Sequoia Capital, where he is now chairman.  He gave the founders of YouTube rooms at Sequoia's offices as they attempted to work out how to share videos in the company's early days, noting that it amused him that they never made it to work before lunchtime. He made his fortune by investing in internet companies such as YouTube, PayPal, Yahoo, Google, eToys and Zappos.
Moritz is a signatory of "The Giving Pledge", committing himself to give away at least 50% of his wealth to charitable causes  and has donated £75m to Oxford University to support students from families with an income below £16,000 per year.   the largest single donation in the college's history.
Sir Michael has said he would not even be here today if it were not for the "generosity of strangers", his father had been "plucked" from Nazi Germany and able to attend a good London school on a scholarship, before going on to study at Oxford and settling in Cardiff and maintains that "My personal circumstances have been defined and shaped by where I started in Wales"  
---
Born on this day 1914 in Newport and raised in Betws.  
Desmond Llewelyn - actor, famous for having played Q in 17 of the James Bond films between 1963 and 1999.  
Llewelyn, the son of a coal mining engineer originally wanted to be a minister but discovered acting by working as a stagehand in school productions.  At the outbreak of World War II, he halted his acting career and was commissioned as a second lieutenant in the Royal Welch Fusiliers.  In 1940, he became a prisoner of war at Colditz Castle for five years, when captured by the Germans.
---
 The  Newport Transporter Bridge was opened on September 12th, 1906.  It is one of only six such bridges in the world still operating.
A transporter bridge is in effect, a suspended ferry operated by a high-level boom, which is suspended from towers at each end.
By 1900, Newport's industry had expanded on the east side of the river Usk, but the population was largely based on the west side.  The transporter bridge was seen as the most economical way of carrying the workforce, to their place of work, as a conventional ferry had proved not to be practical, due to the extreme tides and a conventional bridge would have needed a long approach ramp in order to gain enough height to allow tall ships to pass under. 
---
 On 12th September 2013, The Church in Wales made the historic decision to create women bishops.    
---
On its completion on 12th September 2008,  The Tower, Meridian Quay in Swansea, became the tallest building in Wales at 107m (351ft).
The tower, which has 29 storeys, houses mainly residential apartments, with a restaurant on the top three floors.  It is reported that a penthouse apartment on the 26th floor was sold for £1 million.  
---
Born on this day 1933 in Swansea
Len Allchurch - former wales soccer international, whose playing career spanned almost twenty years, most notably he played in the top flight with Sheffield United and had lengthy spells with Swansea City and Stockport County. He is the brother of the late Ivor Allchurch and had the distinction of never receiving a booking or a caution throughout his entire Football League career.  Allchurch earned 11 caps for Wales and was part of the Welsh squad at the 1958 FIFA World Cup.  On his retirement Allchurch became an hotelier in Swansea before running a leather goods business.