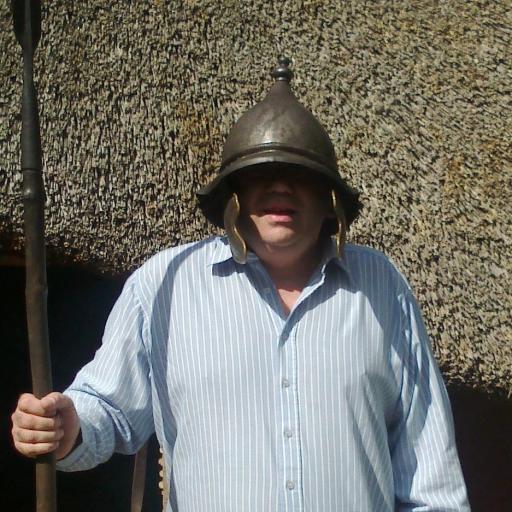 On this day 1831 Dic Penderyn was hanged on the gallows in St. Mary's S

treet, outside 

Cardiff gaol.  His last words are reported to have been "O Arglwydd, dyma gamwedd" ( "Oh Lord, here is iniquity")  
Dic Penderyn was a Welsh labourer and coal miner, who was born, Richard Lewis in Aberavon in 1808.  He and his family moved to Merthyr Tydfil in 1819, where he and his father worked in the local mines.  Richard was always known as Dic Penderyn after the village of Penderyn near Hirwaun where he lodged. 

On June 3, 1831, he was involved in the Merthyr Rising, which was one of many protests throughout industrial Wales at the time against the terrible working conditions in the mines and ironworks,  made  worse by wage cuts and the layoffs as demand for iron and coal fell away.  A mob ransacked the building  where court records of debt were being stored and in a bid to restore order, a detachment from one of the Highland Regiments stationed at Brecon, fired into the unarmed crowd, killing 16 people.  No soldiers were killed in the affray, but one, a Private Donald Black was stabbed in the leg with a bayonet.  Along with his cousin Lewis Lewis, Dic Penderyn was arrested for the attack even though neither man could be identified as carrying it out.  Even though it is thought that Dic had had  limited involvement  in the rising, both he and his cousin were convicted, sentenced to death, however, Lewis Lewis later had his sentence commuted to transportation. 
The people of Merthyr Tydfil were convinced that Dic Penderyn was not guilty and raised a petition demanding his release that was signed by over 11,000.  However, the Home Secretary Lord Melbourne, well known for his severity, refused to reduce the sentence and Dic Penderyn was duly hanged.  Thousands grieved and lined the route as Dic's coffin was taken from Cardiff to Aberavon where he was buried  in St Mary's churchyard, Port Talbot.  
Dic's death embittered relations between Welsh workers and the authorities and strengthened the Trade Union movement and Chartism in the run up to the Newport Rising.  He became a working class hero, a folk hero, who through his death became a symbol for those who tried to fight and resist oppression.  
---
"The man who knew too much" - (Photographs courtesy of Nigel Linsan Colley - www.garethjones.org) 
Gareth Richard Vaughan Jones (born in Barry on 13th August 1905) -  "unsung hero of Ukraine"  a journalist who first publicised the existence of the Great Ukranian Famine of 1932-33 (the Holodomor) to the Western World. 
His mother had been tutor to the grandchildren of the Welsh steel industrialist John Hughes, who was the founder of the town of  Hughesovka , modern day Donetsk in Ukraine and her stories inspired in Jones a desire to visit the Soviet Union and particularly Ukraine.  
In January 1930, he began work as Foreign Affairs Advisor to David Lloyd George, before touring the Soviet Union in the summer of 1931 with H.J. Heinz of the food company dynasty.  In  1932,  Jones returned to work for Lloyd George and helped the wartime Prime Minister write his  War Memoirs .  
In 1933, Jones covered the coming into power of the Nazi Party in Germany and later he flew with Hitler to report on his tumultuous acclamation in Frankfurt. he then travelled to Russia and Ukraine, after which he issued his now famous press release, with the heading.  'There is no bread. We are dying'.  Going on to report how many houses were full of dead and dying people and how those who were alive, were living on cattle fodder. 
This report was unpopular, as many in the media were sympathetic with the Soviet regime and denied the existence of a famine.  Jones was subsequently  banned from  visiting the Soviet Union again and turned his attention to the Far East, to where he toured in late 1934.  In  Japan,  he was captured by bandits and shot dead in mysterious circumstances. There were strong suspicions that Jones had been murdered by the Soviet secret police as a reprisal for the embarrassment he had previously caused the Soviet regime.  
In 2006, a trilingual (Welsh/English/Ukrainian) plaque was unveiled in Gareth Jones' memory in the Old College at Aberystwyth University and in 2008, Jones and fellow Holodomor journalist Malcolm Muggeridge were posthumously awarded the Ukranian Order of Merit in reward for their exceptional services to the country and its people.
---
Born this day 1945 in Kenfig Hill, near Bridgend.
Howard Marks - author and former drug  smuggler , who achieved notoriety as an international cannabis smuggler.  At his  peak,  he was supposedly smuggling up to 30  tons  of the drug at a time and was connected with the CIA, MI6, IRA and the Mafia.  He was finally convicted by the American Drug Enforcement Administration and handed a 25-year  sentence,  though he was released in April 1995 after serving seven.  Marks was nicknamed Mr Nice, after a passport that he acquired belonging to convicted murderer Donald Nice, one of  43  different aliases he is thought to have used. 
---
In August 1909, Noah Ablett was a founding member of the Plebs' League at Ruskin College, Oxford.
Noah Ablett, born in 1883 in Porth, Rhondda was a trade unionist and political theorist. He had originally intended to join the ministry but turned his attention to the plight of the poor pay and working conditions of the coal miners in Rhondda.  After winning a scholarship to Ruskin College, Oxford in 1907, he was part of the college strike and subsequent movement that saw the creation of the Plebs' League, a Marxist educational group.  
On returning to Wales, Ablett became a checkweighman at Mardy Colliery and set up Marxist educational classes. He was also one of the founders of the Unofficial Reform Committee and the main author of 'The Miners' Next Step', which demanded a minimum wage for miners and for control of the mines to be handed to the workers. Between 1921 and 1926 he was an executive member of the Miners' Federation of Great Britain.