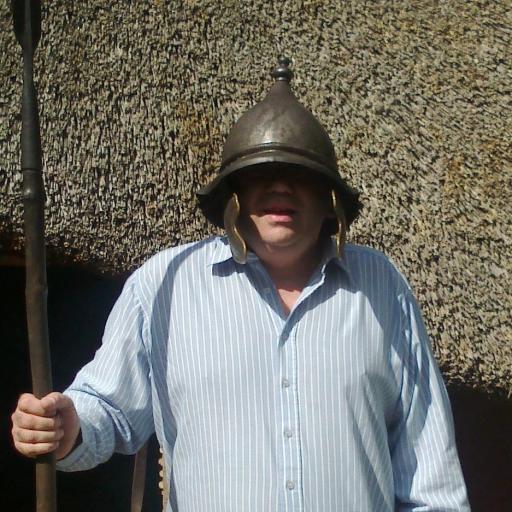 Dafydd ap Gruffydd, brother of Llywelyn, was born on 11th July 1238. He was the son of Gruffudd ap Llywelyn and grandson to Llywelyn Fawr, Llywelyn the Great. 
 As a very young child, in 1241, he was sent to the court of Henry III for a period of ten years. This was partly to receive an education befitting his noble rank, but also partly as a hostage in order to reinforce a peace treaty.  At the age of 14, he was invested with the title Lord of Cymydmaen, and as a consequence became a liegeman of the king and was expected to pay due homage to Henry.  In 1255, he became involved in the  struggle for the control of Wales. He fought against his brother, Llywelyn, during the battle of Bryn Derwin, but was defeated. In 1263, he once again fought for King Henry against his brother, but after an agreement was reached, Llywelyn was reluctantly acknowledged by Henry as Prince of Wales. However, in 1274 Dafydd once again supported King Edward I in a conflict with Llywelyn. 
In 1282, Dafydd precipitated a significant confrontation by attacking Hawarden Castle, provoking Edward l to gather an enormous attacking force, an army far greater than was actually needed. Llywelyn was hunted down and killed, and Edward pursued Dafydd, who on his brother's death had assumed the title Prince of Wales.  His reign as Prince was destined to be very brief. Edward surrounded  Dafydd's stronghold in Snowdonia and gradually closed in. In May 1283, Dafydd retreated to his royal home at Garth Celyn, where he was encircled by 3,000 of Edward's men.  In June of that year, Dafydd was eventually taken captive while ignominiously seeking refuge in a bog. He was wounded, but survived and was sent to Shrewsbury to face trial. On 30th September 1283, Dafydd was condemned to death, the first person to be tried for 'high treason'. 
On 3rd October 1283, Dafydd was dragged through Shrewsbury to the scaffold and hanged until just before the point of death, then disembowelled, with his intestines being burnt before his eyes, becoming the first prominent person in recorded history to have been hanged, drawn and quartered.  His body was then cut into four pieces and fed to the dogs. His head was removed from his body and sent to the Tower of London, where it was put on display alongside that of his brother Llywelyn.  
---


Born on this day in 1769 was John Quincy Adams, who became the 6th President of the United States of America. His family can be traced to Pembroke, and also to Llanboidy in the heart of Carmarthenshire. 
He was the son of John Adams who was the 2nd US President. He planned to improve the efficiency of the American economy and was committed to education. Adams was economically successful and succeeded in reducing a large proportion of the national debt. He was, however, thwarted by a Congress dominated by his political opponents, and his refusal to use networking gave the advantage to those politicians who sought to undermine him. He lost his bid for re-election in 1828 to Andrew Jackson, making him the first president since his father to serve only a single term in office. Impelled by his increasing abhorrence of slavery, Adams became one of the principal opponents of the Slave Power. He confidently predicted that should there be a civil war, the residing president would be able to abolish slavery by using his 'war powers'. Adams also predicted the dissolution of the Union over the slavery issue.  
---

Ernest Thompson Willows (1896-1926) was a pioneer aviator and aircraft designer who was born on 11th July in Cardiff.  He was the first person in the United Kingdom to hold a pilot's certificate for an airship.
Willows started designing his own aircraft at the age of nineteen and made his first flight in 1905.  His first airship, the Willows No.1, was built in 1905 when he was aged only 19. Its maiden flight lasted for 85 minutes over East Moors, Cardiff on 5 August 1905 and in 1910 he flew his airship from Cheltenham to Cardiff.  He devised a technique of powering hot air balloons using moveable propellers, which meant that, for the first time, balloons could be steered. His first venture was soon followed by an improved version, Willows No. 2, which he landed outside Cardiff City Hall on 4 June 1910.  This was remodelled as No. 3, which he named the 'City of Cardiff' before flying from London to Paris in 1910. 
Willows moved to Birmingham where he constructed his next airship, the Willows No. 4. Piloted for the first time in 1912, Willows sold the craft to the Admiralty for £1,050, when it became 'His Majesty's Naval Airship No. 2'. With the profit from the Navy, Willows established a gas balloon school at Welsh Harp in Hendon near London. This venture, however, this did not deter him from building Willows No. 5 in 1913, a four-seater craft built to take pleasure flights over London.  During the first world war, Willows built kite or barrage balloons to protect the City of Cardiff. After the war he resumed his career but sadly, on the 23 August 1926, he was killed in a balloon accident at Hoo Park, near Bedford, a tragedy which also claimed the lives of  two passengers.
His achievements are commemorated in his native Cardiff, where a street, a public house in City Road and 'Willows' High School are named in his honour.  
---
On 11th July 1811 Sir William Robert Grove, who is commonly known as the 'father of the fuel cell,' was born in Swansea. His work is influential in the modern application of fuel conservation.
Grove constructed the first fuel cell producing energy using a combination of hydrogen and oxygen in 1842. He called this the 'gas voltaic battery' which is described using his 'correlation' theory. He was, essentially the first person to show the thermal dissociation of molecules into constituent atoms. He was closely associated with other contemporary scientists such as Gassiot and Faraday, and with Edward William Bailey, who was his scientific editor. His discoveries contributed significantly to the development the process of ionisation.  
---
On July 11th 1718, Howell Davis, a sailor from Milford Haven, was serving as mate on a ship named the Cadogan which was captured by pirate Edward England. Davis decided to become a pirate captain himself. 
He was given command of the Cadogan and set sail for Brazil. Unfortunately for him, the crew mutinied en route and diverted the ship to Barbados, where Davis was imprisoned for piracy. On his release, he joined a pirate band based in New Providence in the Bahamas, but the Governor, Woodes Rogers, cleared them out. Davis fled on a sloop called The Buck, and along with six others, commandeered the vessel and set up his own den at Coxon's Hole.
Later, crossing the Atlantic, he harried shipping in the seas around his new base in the Cape Verde Islands. One of his prizes while there was the Saint James, a fine ship with 26 guns. He joined forces with Olivier Levasseur, a French pirate known as La Buse, and with Thomas Cocklyn, another pirate captain. This was a short-lived partnership which ended in a drunken brawl.
He took yet another ship, The Rover, which had 32 guns, sailed south to the Gold Coast where he captured several more rich vessels. One of his prisoners was Bartholomew Roberts, who was to become an even more famous pirate than his captor. Bartholomew, a fellow Welshman, became Black Bart or Barti Ddu.
Davis finally overreached himself when he tried to pass himself off as a Royal Navy Pirate Hunter in order to kidnap the governor of Principe, a Portuguese island. The governor was not fooled, however, and ambushed Davis who was shot dead.  His successor, Barti Ddu, retaliated later that same night by raiding and pillaging the island.  
---
On 11th July 1905, an underground explosion at the Wattstown National Colliery in the Rhondda Valley killed 120 men, with just one survivor. Three people were rescued from the mine, of whom two would later die of their injuries. Only Matthew Davies lived.
The subsequent investigation into the cause of the disaster concluded that the illegal use of blast material had caused the explosion. A message of condolence was sent by King Edward VII and many thousands of mourners joined the four-mile long funeral procession.  
---
The Welsh language pressure group Cymuned was launched on 11th July 2001, at a meeting in Mynytho on the Llyn Peninsula. 
The group was set up to campaign against the threat to communities in Wales caused by ongoing demographic changes. Issues such as housing and social justice feature strongly on its agendas, and the organisation considers itself to be anti-racist and anti-colonisation.
One of Cymuned's recent campaigns, for a reasonable proportion of new housing builds to be reserved for local inhabitants, has been adopted in the Lake District, the Peak District, Devon, The Yorkshire Dales National  Park and parts of Shropshire.
 
Cymuned have organised demonstrations outside the offices of English estate agents that sell second homes in Wales. In addition, they have tackled the train company Arriva Trains Wales for its lack of use of the Welsh language, and the holiday company Thomas Cook which banned the use of Welsh in its Bangor branch in 2007.