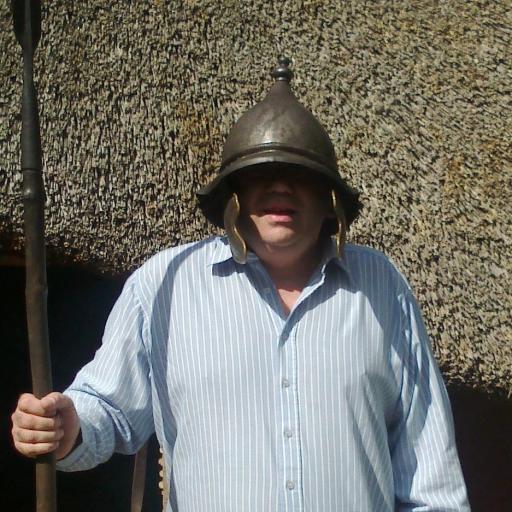 Born this day 1771 in Newtown, Powys
Robert Owen , social reformer and one of the founders of utopian socialism (the beginnings of socialism) and the cooperative movement.
Owen  worked in the drapery trade, becoming the manager of a mill in Manchester, where he also became a member of the Manchester Literary and Philosophical Society, who discussed the ideas of reformers and philosophers of the Enlightenment.
Through marriage, he became  part owner of the New Lanark mill in Manchester, which he ran using high principles and focusing less on commercial gain.  He is credited with founding the cooperative shops of Britain by opening a store for his employees where they could buy goods of sound quality at little more than wholesale cost.  At New Lanark, he also provided the revolutionary service of infant childcare for his workers.  The mills were a great success but displeased Owen's partners because of the expense incurred by some of his schemes.
Tired of the restrictions imposed on him by men who wished to conduct the business on less compassionate principles, Owen bought his partners out and New Lanark became a centre of interest for social reformer.
Owen had no religion but believed that the formation of a man's character was due to physical, moral and social influences, from his earliest years.  Through these beliefs he endeavoured to put into practice plans for alleviating poverty through Socialism, by;
*  Suggesting that Communities should only be of about twelve hundred persons, each to be settled on quantities of land from 1,000 to 1,500 acres. 
*  All people in the community living in one large building in the form of a square, with public kitchen and mess-rooms.
*  Each family should have its own private apartments, with children over the age of three to be brought up by the community, with their parents having access to them frequently, but only at arranged times.
*  He purposed a wage equality, in which each person in the society (over the age of 15) would receive only sufficient for to their needs.
In 1825, an experiment of a community based on Owen's beliefs was attempted at Orbiston near Glasgow and the following  year Owen himself began another at New Harmony, Indiana.  Both failed completely, but it is the cooperative movement, that remains to this day a legacy to his work and beliefs.  He died in Newtown on 17 November 1858.  
---
William Marshal, 1st Earl of Pembroke (1147 – 14 May 1219) was regarded by many to bes the "best knight that ever lived." and one of the most powerful men in Europe.  He served four kings –Henry II, Richard the Lionheart, John, and Henry III and by the time he died, people throughout Europe referred to him simply as "the Marshal".
William Marshal played an important role in the political and military history of Wales and the Marches.  He was a benefactor of the abbeys of Tintern and Pembroke, the priory at Pill near Milford Havenl and granted the town of Haverfordwest its charter.
1189 - Marshal became the 1st Earl of Pembroke" by his marriage to Isabel de Clare
1192 - During the campaign of Rhys ap Gruffydd against the Normans, Marshal was one of the Norman leaders which raised the siege of Swansea castle. 
1202 - Marshal was made the custodian of Cardigan Castle by King John.
1204 - Marshal captured Cilgerran Castle from Maelgwn ap Rhys.
1207-11 - During a rift with King John, Marshal was deprived of the castle of Cardigan.
1212 - Marshal fought with John in the war against Llywelyn ap Iorwerth.
1213 - Back in Royal favour, he was restored to the castles of Haverfordwest, Cardigan, Carmarthen and Gower and became King John's representative in South Wales and commander of the Marcher barons struggle with Llywelyn ap Iorwerth.
1218 When hostilities ended with the Peace of Worcester Llywelyn ap Iorwerth was given custody of the castles of Cardigan and Carmarthen, but Marshal retained Caerleon which he had taken from Morgan ap Hywel in 1217.  
---
Born on this day 1888 at Pen-y-bont-fawr, Oswestry.
Nansi Richards  -  Telynores Maldwyn ("the Harpist of Montgomeryshire") who was the most  distinguished figure in traditional harp-playing in Wales in the 20th century and brought the harp playing back into prominence. 
Interestingly, on a trip to America, she met with Will Kellogg, the corn flakes manufacturer, who was looking for advertising ideas. Richards suggested using the similarity between the  Welsh word for cockerel "ceiliog" and Kellogg's own name and hence, Cornelius Rooster was born.
---
On 14th May 1951, the narrow gauge Talyllyn Railway was reopened from Tywyn on the Mid-Wales coast to Nant Gwernol near the village of Abergynolwyn, by the Talyllyn Railway Preservation Society. It is the world's first railway to be preserved as a heritage railway by volunteers.
The line was first used from 1866 to transport slate from the Bryn Eglwys quarry to Towyn.  
---
On 14th May 1896, Garth Pier, Bangor was opened by Lord Penrhyn. 
At 1550 feet long it is the second longest in Wales after Llandudno pier and stretches just over half way across Afon Menai.  Until 1914, a railway ran the length of the pier connecting with the landing stage which handled steamers from Blackpool, Liverpool and Douglas, Isle of Man.   After years of neglect and consequent deterioration the pier was finally closed to the public in 1971, and, in 1974, taken into the ownership of the county council, who proposed to demolish it.  However, Bangor City Council bought the pier for one penny in 1982 and organised its restoration which was completed with the pier's official opening in 1988.  
---
Born this day 1933 in Gwaun Cae Gurwen
Siân Phillips , CBE, World famous actress, best known for her roles in the television drama's I. Claudius (for which she won a BAFTA), Tinker, Tailor, Soldier, Spy and Smiley's People.  She also starred in the films Becket ( in which she appeared alongside her then husband Peter O'Toole), Goodbye, Mr Chips andMurphy's War.  
---
Born this day 1935 in Swansea
Mel Charles , former Wales soccer international and captain. He is the brother of  John Charles and had the impressive record of going through his whole career without being booked or sent off.
---
Born this day 1938 in Upper Cwmtwrch, Swansea Valley


Clive Rowlands OBE ,  former Wales rugby international, captain and coach. Unusually, he was captain for all fourteen of his international caps and as a coach, he won a Grand Slam in 1971.  Rowlands was the manager of the Lions tour to Australia in 1989, as well as managing Wales in the 1987 Rugby World Cup. He was also President of the Welsh Rugby Union in 1989.