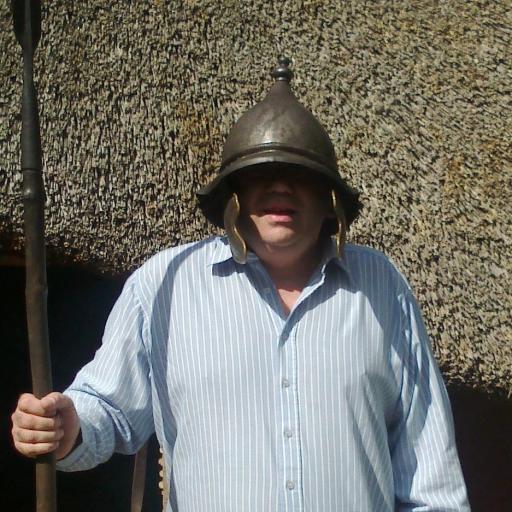 On 13th May 1839, the first of the Rebecca Riots took place at Efailwen near St Clears
The Rebecca riots took place between 1839 and 1843, in the rural parts of west Wales, mostly in Pembrokeshire, Cardiganshire and Carmarthenshire.  They were a series of protests made mostly by tenant farmers against the payment of tolls to use the roads.  During the riots, men disguised as women attacked the tollgates calling themselves 'Rebecca and her daughters', most likely referring to a passage in the Bible where Rebecca talks of the need to 'possess the gates of those who hate them'
The 1830's, the period leading up to riots were turbulent times.  The population of the rural areas of Wales had doubled in the century before the riots and it was hard for them all to gain a livelihood.  On top of this farmers also had to pay a tenth of all their produce to the church.
The last straw was the toll gate system, roads were especially bad in Wales and to remedy this, the government established turnpike trusts, which were made up of trustees (usually local businessmen and landowners) who were responsible for maintaining the roads, which they funded by erecting toll gates.  Farmers were especially hard-hit by this as they used the roads to transport their produce. In 1839, a gate was put up at Efailwen to catch farmers who were evading the tolls, there were already twelve gates surrounding Carmarthen and this was seen as a step too far.
The Efailwen gate was destroyed by a large crowd and when it was re-erected, a public meeting concluded that there was no need for the gate and it was destroyed for a second time.  
---
On 13th May 1897, radio pioneer, Guglielmo Marconi made history, by transmitting a radio signal from Flat Holm to Lavernock Point in the Vale of Glamorgan.      
---
On 13th May 2011, the Roman Catholic Church in England and Wales announced the reinstatement of the rule of abstaining from eating red meat on Fridays to coincide with the first anniversary of the visit of Pope Benedict XVI.   
---
On 13th May 1849 a case of cholera was recorded in Cardiff.  It was the beginning of a dreadful outbreak which impacted the ports and mining communities of both South and North Wales, eventually killing over 800 people.  
Victims were buried in special locations as it was thought at the time that the corpses carried the risk of contagion.  These were often in remote places such as the cholera graveyard of Cefn Golau on a bleak moorland outside the former steel and coal mining town of Tredegar.   
---
Born this day 1737 in Llanidan, Anglesey
The "copper king", Thomas Williams , who was an industrialist and MP and at the time of his death, the richest man in Wales.
Williams who owned the Parys and Mona copper mines in Anglesey and others in Cornwall made aquisitions in Flint, Penclawdd, Holywell, Lancashire, Berkshire and Buckinghamshire to ensure that these mines controlled their own smelting, manufacture, warehousing and banking.  
During his career, Williams became MP for Marlow in Buckinghamshire and controversially supported the slave trade, as many of his manufactured goods were exported to Africa in exchange for slaves, who were then sold in the West Indies to purchase commodities such as sugar for import into Britain.   
---
On 13th May 1888, Beatrix Potter, aged 22, recorded a train journey to Machynlleth in her diary, complaining how it took four hours to from Shrewsbury to Machynlleth.  She described Machynlleth was awretched town as hardly anyone could speak English.
Beatrix was more complimentary of the countryside, which she described as beautiful and the Welsh people who seemed to her to be a pleasant intelligent race, but she also thought they would be difficult to live with.