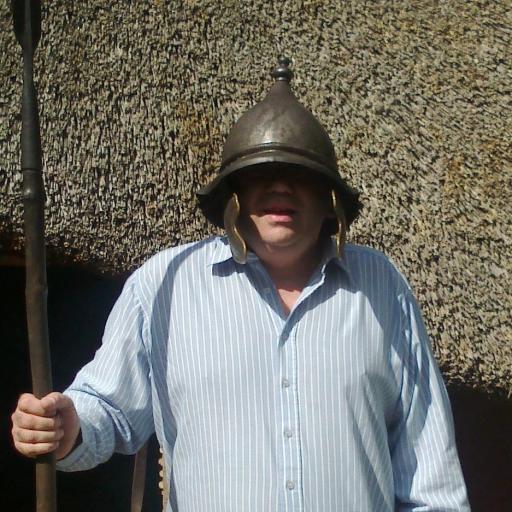 On 5th May 1405, Owain Glyndŵr suffered his first major defeat at the Battle of Pwll Melyn on land immediately to the north of Usk Castle. This setback was to seriously weaken the strength of his rebellion in South East Wales.
The battle had begun with an attack on Usk Castle, led by Glyndwr's son, Gruffydd. The castle repelled the assault and counter-attacked, driving the Welsh across the Usk and into the forest of Monkswood towards Mynydd Pwll Melyn - the 'Hill of the Yellow Pool'. According to the report from Adam of Usk, the Welsh lost 1,500 men, with three hundred beheaded in front of Usk Castle. Included in those killed were Glyndwr's brother Tudor and John ap Hywel, Abbot of the Llantarnam Cistercian monastery, as he was ministering to the dying and wounded, Gruffydd was captured and imprisoned in the Tower of London.  
---
The Wales Coast Path which follows the whole of the coastline of  Wales was opened this day 2012, 
*   It  is an 870 miles walking route from Chepstow, in the south, to Queensferry, in the north.
*   Wales is the first country in the world to have a dedicated footpath along its entire coastline.
*   In 2011 National Geographic magazine voted the Welsh Coastline as the second best coastal destination in the world. (Newfoundland's Avalon Peninsula was voted top)
*   The Wales Coast Path links with the Offa's Dyke to create a 1,030 miles  continuous walking route around the whole of Wales.
---
Born this day 1944 in Aberystwyth
Roger Rees, Tony-winning actor, best known for playing Robin Colcord on the  television show Cheers and Lord John Marbury on the television drama The West Wing.
---
Today is the feast day of Saint Asaph
Saint Asaph, died c.601, was the son of King Sawl Penuchel from Yr Hen Ogledd and lived in a hermitage in Tegeingl nr Holywell.  He was the second Bishop of St Asaph succeeding Kentigern alias Saint Mungo who founded the monastery there.
 Kentigern who would regularly pray standing in the cold river, once asked Asaph, to find wood for a fire, but instead, Asaph carried red hot coals to him, in his apron.  This, Kentigern took to be a miracle and showed him the power of Asaph's faith.  
---
  On 5th May 1967, the Brynglas Tunnels by passing Newport on the M4 motorway were opened.  
The Brynglas Tunnels carry the M4 motorway under Brynglas Hill in Newport. The 1,200-foot-long twin-bored tunnels were the first tunnels in the British motorway network and are still the only bored tunnels.  However, the tunnels have become a bottleneck, because of variable speed limits and the fact that the Newport bypass between junctions 24 and 28 have been widened to three lanes, except for the tunnels and Usk Bridge.