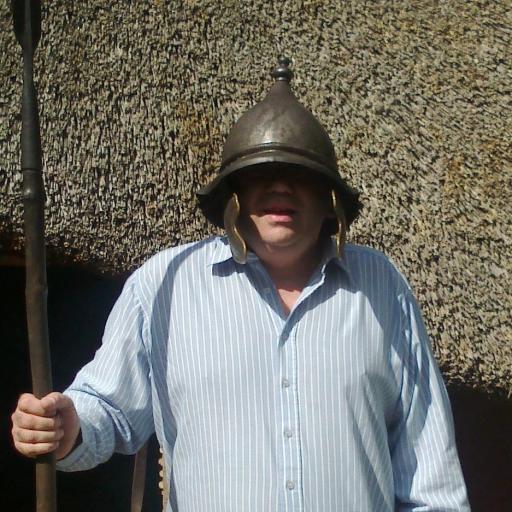 In May 1177, in order to strengthen his position as King of Gwynedd, Dafydd ab Owain Gwynedd was given the lordships of Ellesmere and Hales in Shropshire by his brother-in-law King Henry II of England at the Council of Oxford. The agreement also saw Dafydd marry Emma of Anjou, Henry's half sister.
Dafydd was the son of Owain Gwynedd and Cristin, who were first cousins and as such, the marriage was not accepted by the church and Dafydd was regarded as illegitimate.
Owain Gwynedd was King of Gwynedd was a key figure in Welsh resistance to Norman rule from 1137 until his death in 1170, after which there was rivalry among his many sons, for supremacy in North Wales from the river Dovey to the river Dee. Of these Dafydd, Hywel, Maelgwyn and Rhodri were to be the main protagonists. Another brother, Madog decided to leave his fractious brothers and according to folklore, sailed to America in 1170, over three hundred years before Christopher Columbus's voyage in 1492.
1157 - King Henry II of England invaded Gwynedd. Dafydd engaged him near Basingwerk and Henry was nearly killed.
1170 - Owain Gwynedd died, with Hywel succeedìng him.
1171 - Dafydd was involved in overthrowing and killing Hywel at the Battle of Pentraeth on Anglesey.
1173 - Dafydd drove Maelgwn into exile in Ireland thereby gaining possession of all Anglesey for himself.
1175 - Dafydd imprisoned Rhodri, thus uniting Gwynedd under his rule. However, before the end of 1175, Rhodri had escaped from captivity and was able to drive Dafydd across the River Conwy. Dafydd and Rhodri then agreed that Dafydd would take charge of Gwynedd Is Conwy, the land between the rivers Conwy and Dee and Rhodri would take charge in Anglesey and Gwynedd Uwch Conwy.
1177 - In order to strengthen his position Dafydd sought an agreement with Henry II that saw Dafydd marry Emma of Anjou, Henry's half sister. Dafydd also received the lordships of Ellesmere and Hales in Shropshire.
1188 - Since the agreements of 1175 and 1177, there appears to have been a period of peace, as noted by Gerald Cambrensis, when he stayed with Dafydd at Rhuddlan Castle during his journey around Wales with Archbishop Baldwin, describing Dafydd as a man who showed "good faith and credit by observing a strict neutrality between the Welsh and English.
1194 - Dafydd's nephew Llywelyn ap Iorwerth (Llywelyn the Great) staked his claim to power in Gwynedd and conspired with Rhodri to defeat Dafydd at the Battle of Aberconwy.
1197 - Llywelyn imprisoned Dafydd.
1198 - Dafydd was released by the direct intervention of archbishop Hubert and retired to the Kingdom of England.
1203 - Dafydd died.
---
In May 1888, Owen Glynne Jones completed the first recorded climb of Cader Idris by the east ridge of the Cyfrwy.
Mountaineer and schoolteacher, Jones was born in London in 1867 to Welsh parents and on the death of his mother in 1882, moved to Barmouth. He went on to achieve a first class honours degree in experimental physics and became physics master at the City of London School
In 1888, he took an interest in climbing and knowing no more about organised climbing than he had absorbed from books on the Alps, ascended the east ridge of the Cyfrwy on Cadair Idris alone. At this time, rock climbing had hardly begun in earnest but in the English Lake District, W.P. Haskett Smith and others had been climbing for about 3 years. So in 1890, Jones visited the Lake District and soon came to the notice of the pioneers, because of his incredible strength, his 'almost supernatural' climbing ability and his scientific outlook. As a rock climber, he was reputed to be fearless though some have suggested that this was because of his short-sightedness. Nevertheless, he achieved many first climbs and was also at the forefront of new techniques in rock-climbing.
From 1891 onwards Jones visited the Alps annually and made some important first ascents. In 1897, he published, with George Abraham the classic Rock Climbing in the English Lake District, which along with Jones's exuberant style did much to popularise the sport. He had made plans to be the first to climb Everest, but in 1920, at the age of 32, he fell 1,650 feet to his death on the Ferpècle arete of the Dent Blanche in Switzerland.
---
On 2nd May 1230, William de Braose was publicly hanged, on the orders of Llywelyn ap Iorwerth, after it was suspected that he had committed adultery with Llywelyn's wife, Joan (Princess of Wales and Lady of Snowdon)
William de Braose (c. 1197 – 2 May 1230) was born in Brecon, the son of Reginald de Braose, who he succeeded in various lordships in 1227, including Abergavenny and Builth. The Welsh detested him and called him Gwilym Ddu (Black William). He was captured in 1228 by the forces of Llywelyn in the commote of Ceri near Montgomery and ransomed for £2,000. de Braose later made an alliance with Llywelyn and his daughter Isabella married Llywelyn's only legitimate son Dafydd ap Llywelyn.
At Easter 1230, William was discovered in Llywelyn's bedchamber with Joan, which resulted in Joan being placed under house arrest for twelve months and de Braose being hanged on 2 May 1230.
---
Born this day 1926 in Port Talbot
Clive Jenkins , former chairman of the general council of the TUC. Jenkins was a frequent guest on television chat shows and wrote his own regular newspaper columns. He listed his stated recreation in "Who's Who" was "Organising the middle classes".
---
Born this day 1982 in Cardiff
Timothy Benjamin , former Olympic athlete who is regarded as one the best British 400 metre runners of all time.