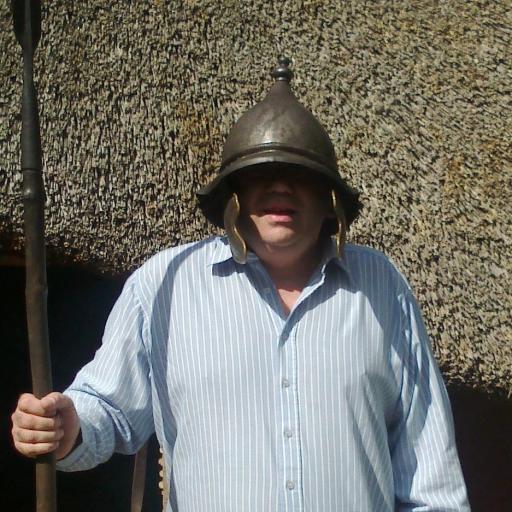 Born this day 1284 in Caernarfon Castle
Edward II King of England, 1307-27 the youngest son of Edward l and Eleanor of Castile.
In 1301, he was made Prince of Wales in the Lincoln parliament, the first English prince to be given the title He was also given control of Llywelyn ap Gruffydd's lands in Gwynedd and the allegiance of all those lords who owed their titles to Llewelyn.
During Edward's defeat in 1314 by the Scots at the Battle of Bannockburn, Gilbert de Clare, Lord of Glamorgan, was killed and succeeded by his brother-in-law, Hugh le Despenser the elder, his son Hugh le Despenser the younger becoming the new favourite of Edward II.
The War of the Barons against Edward II, led by Roger Mortimer of Wigmore, was an attempt to break the influence of the Caerphilly Despensers on the king, but it failed, with the Despensers now effectively ruling England.Their appetite for land was voracious, with Hugh le Despenser the Younger accumulating lordships which encompassed almost the entire southern coast of Wales.
In 1323 Roger Mortimer of Wigmore escaped from Tower of London and fled to France where he formed an allegiance with Edward's estranged wife, Isabella.They became lovers and plotted to raise an army to overthrow Edward.
Isabella and Mortimer arrived in England in 1326 with their army and met with minimal resistance. Edward II and the younger Despenser fled to Caerphilly Castle. They were later captured near Llantrisant and imprisoned in Monmouth Castle. Despenser was tried and executed at Hereford, whilst Edward II was taken to Kenilworth Castle in Warwickshire and later Berkeley Castle in Gloucestershire.
In 1327, Gruffydd ap Rhys, lord of Dinorwig and Tregarnedd and Sir Rhys ap Gruffydd, lord of Narberth along with thirteen prominent men of Wales led an unsuccessful plot to free Edward from Berkeley.
1327 In January Edward II agreed to resign his crown in favour of his son Edward and in September Edward II was murdered.
A legacy of Edward's reign, was that Roger Mortimer made himself lord of huge territories in Wales, he had himself named earl of March and the Welsh Marches became his power base.
---
Born this day 1927 in Ystrad, Rhondda,
Ernest Zobole , who was a painter and art teacher, was described as one of Wales' "most important artists." His paintings reflected the industrial setting of the Rhondda Valleys.
---
On 25th April 1283 the constable of Castell y Bere surrendered after a siege by the army of Edward I who were seeking the capture of Dafydd ap Gruffudd, who had escaped to Dolbadarn Castle in Snowdonia.
After Llywelyn ap Gruffudd's death in 1282, his brother Dafydd had become Prince of Wales and was on the run from Edward I who had the heartland of independent Wales ringed with a massive army.
---
John Poyer was a Parliamentary soldier during the English Civil War, who later rebelled and was executed for treason on 25th April 1649 .
Initially a prosperous merchant, mayor and Governor of Pembroke Castle, Poyer raised a force on behalf of Parliament, defending the castle against the Royalists. When, in 1647, he was commanded to disband his army and surrender Pembroke Castle, he refused, claiming that he was owed money. He joined a Royalist rebellion which lost at the Battle of St Fagans.
Poyer, along with fellow rebels Laugharne and Powell, fled to Pembroke, where they were besieged by Oliver Cromwell and forced to surrender on 11 July 1648 . Poyer was executed at Covent Garden in London.
---
On 25th April 1915 during the landing on V Beach, Gallipoli, Able Seaman William Charles Williams from Chepstow secured the safety of landing craft while under continuous enemy fire . He was killed by a shell and was described by his commander as the bravest sailor he had ever met. He was posthumously awarded the Victoria Cross - the first such award made to a member of the Royal Navy.
---
James Relly, born in Jeffreyston, near Tenby in Pembrokeshire. (c.1722– April 25 , 1778) was a Methodist minister who adopted Universalism and among whose converts in 1770 was John Murray, the founder of Universalist churches in America.
Universalists believe that God did not create the human race knowing that we are destined for eternal damnation.
---
Born on this day 1923 in Newport,
Paul Whitsun-Jones , a character actor notable for appearances in the TV series Z-Cars, The Saint, The Avengers, Some Mothers Do Ave Em, Doctor Who and The Persuaders.
---
Born on this day 1929 in Machen near Caerphilly,
Malcolm Thomas - former Wales rugby captain . A centre, he played club rugby for Newport. He was capped for Wales on 27 occasions and was selected to play in the British Lions on two tours of Australia and New Zealand.