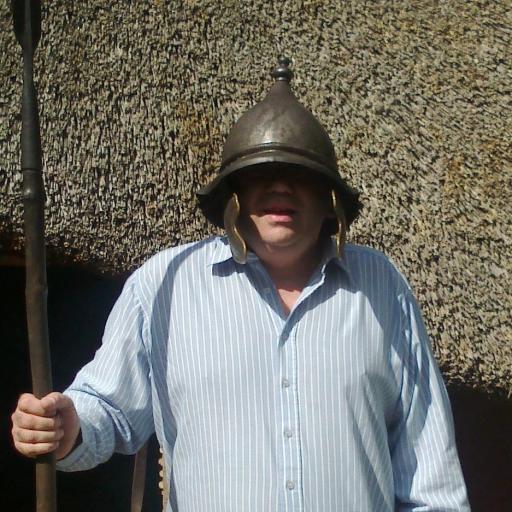 The Treaty of Woodstock
In April 1247 - Llywelyn ap Gruffydd and his brother Owain Goch ap Gruffydd came to terms with King Henry III of England at his royal residence of Woodstock Pace in Oxfordshire.
Gwynedd was divided with Llywelyn and Owain gaining joint control of Gwynedd Uwch Conwy, the part of Gwynedd west of the River Conwy and Henry himself taking control of Gwynedd Is Conwy, east of the river.
1255 - At the Battle of Bryn Derwin, Owain joined an alliance against Llywelyn, but was defeated and imprisoned and Llywelyn became sole ruler of Gwynedd Uwch Conwy. With Henry III distracted by war with his barons, this cleared the way for Llywelyn to recover and extend Gwynedd's territory until it encompassed much of the rest of Wales and in 1258 to declare himself prince of Wales.
1277 - Under the terms of the Treaty of Aberconwy, peace was agreed between King Edward I of England and Llywelyn, but also essentially guaranteed that Welsh self-governance would end upon Llewelyn's death. Llywelyn also reluctantly released Owain under the terms of the treaty, who retired to his estate in north-west Wales.
1282 - Owain is thought to have died, prior to the catastrophic death of Llywelyn at Cilmeri.
---
The reign of Henry VIII began this day 1509 on the death of his father Henry VII.
Henry VIII's relationship with Wales;
Henry VIII's father Henry VII was born at Pembroke Castle and took great pride in his Welsh ancestry. After he became king, Henry rewarded many Welsh men with lands and government posts, but he did not pass the same love of Wales to his son Henry VIII.
1491 Henry was born, the second son of Henry VII and Elizabeth of York
1502 Henry's older brother Arthur died, making Henry heir to the throne and Prince of Wales.
1509 Henry VII died and Henry succeeded his father to the throne as Henry VIII.
At this time Wales was divided into two administrative areas:
1. The Principality, which was divided into shires and governed as if it was part of England. The more important towns in the principality were Aberystwyth, Harlech, Caernarfon and Conwy.
2. The Marcher Lordships, which covered the remaining two-thirds of Wales and was governed by the Marcher Lords.
Henry was not happy with the way that the marcher Lords were dealing with law and order along the Welsh and English border. Henry's concerns increased after his divorce from Catherine of Aragon, as many Marcher lords were Roman Catholic and he doubted their loyalty. He was also concerned that parts of the south-west coast of Wales were poorly defended and open to landings from enemy forces. Henry dealt with this by passing Laws in Wales Acts from 1536 to 1542, in which Wales in effect became a part of England.
English became the sole official language, law courts in Wales only conducted their affairs in English and knowledge of Welsh became a disadvantage. Rich Welsh families who sent their sons to England in an effort to advance themselves, ensured that they only spoke English.
---
Born this day 1926 at 17 Bruton Street, Mayfair,
Queen Elizabeth II, whose connections to Wales include:
* Elizabeth II claims Welsh descent through Henry VII's daughter Margaret Tudor who married King James IV of Scotland, later crowned James I of England
* During the Second World War, plans were drawn up to quell Welsh nationalism by connecting Elizabeth more closely with Wales. Welsh politicians suggested that she be made Princess of Wales on her 18th birthday, but this was rejected by King George VI because he felt such a title belonged solely to the wife of a Prince of Wales.
* In 1946, she was inducted into the Gorsedd of Bards at the National Eisteddfod of Wales.
* In 1948, she was given the freedom of the city of Cardiff.
* At her coronation on 2 June 1953, Elizabeth's gown was embroidered with the emblems of the Commonwealth countries, among which was a leek, representing Wales.
* Pembroke Welsh Corgis are the favourite breed of Queen Elizabeth II, who has owned more than 30 during her reign.
* Her grandsons HRH Prince William and HRH Prince Harry have chosen the surname Wales.
* She invested her son Charles as Prince of Wales at Caernarfon Castle in 1969.
* She played a prominent role in the officially opening of the Welsh Assembly on 26 May 1999 in Cardiff.
* On 1 March 2006, The Queen opened the permanent home for the Welsh Assembly in Cardiff.
* A donation of a kilogramme of Clogau Welsh gold was made to The Queen on her 60th birthday in 1986, who also wears a wedding ring of Welsh gold
* The Queen and Prince Phillip visited Aberfan the week following the disaster in 1966, and in 2012, she returned to open Ynysowen Community Primary School during her Diamond Jubilee visit to Wales.
---
Born this day 1941 in Llandybie, near Ammanford.
Elmer Gethin Rees is a mathematician who has published texts on linear algebra, algebraic geometry, differential geometry and topology.
One of his best-known achievements is establishing the International Centre for Mathematical Sciences, "designed to bring together mathematicians and practitioners in science, industry and commerce."
---
The National Museum of Wales was officially opened on 21st April 1927.
It was initially founded in 1905, with a royal charter being granted in 1907. Prior to this, the Cardiff Museum had shared a building with Cardiff Central Library at The Hayes, being a sub-department of the library. Construction of the new building at Cathays Park was interrupted by the First World War and it did not open to the public until 1922, with the official opening taking place in 1927.
---
Easter Monday - Llun y Pasg.
One of the Welsh rituals on Easter Monday involves a procession to the top of nearby mountains before sun rise. In some areas, people carry bowls of water to reflect the rising sun while others perform three somersaults as the sun rises.