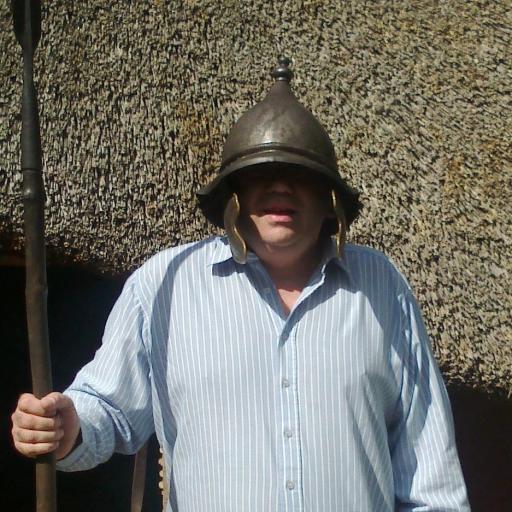 In  April 1093 , Rhys  ap  Tewdwr, the last king of Deheubarth was at the Battle of Brecon.
Rhys was the great-great-grandson of Hywel Dda  and  grandfather of Rhys ap Gruffydd (The Lord Rhys).
1078 - Rhys took possession of Deheubarth after his second cousin, Rhys ab Owain was beheaded after the battle of Gwdig.
1081 - Caradog  ap  Gruffydd of Gwent invaded Deheubarth, but was killed in the battle of Mynydd Carn. On William the Conqueror's pilgrimage to St David's shrine in the same year, he publicly recognised Rhys's position as ruler of Deheubarth in exchange for Rhys's homage. The two maintained good relations until William's death in 1087.
1088 - Cadwgan  ap  Bleddyn of Powys attacked Deheubarth but was defeated in battle.
1091 Rhys successfully put down a challenge from a force from Dyfed to the throne of Deheubarth, in a battle at St. Dogmaels.
1093 - Rhys was slain by the Normans at the Battle of Brycheiniog (Brecon), which led to the Norman conquest of Brycheiniog, Deheubarth and much of south Wales.
---
Edward Jones, born in Llandderfel, near Bala, ( March 1752  –  18 April 1824 ) was a harpist, who was also a bard, composer and collector of music. He was known by the bardic name of "Bardd y Brenin", which he adopted in 1820, when his patron, King George IV, was crowned.
He first came to London in 1775, and was patronised by prominent Welshmen and became harp tutor to several wealthy families. In around 1790, he was made Harp-Master to the Prince of Wales and moved into St James's Palace in 1805.  
---
Born this day 1896  in  Llanddowror , Carmarthenshire,
James Ira Thomas "Taffy" Jones , who was the  highest scoring Welsh air ace of The First World War
During the War, he scored 37 victories and survived 28 flying accidents.  In one incident he attacked an enemy bomber with just a flare pistol.  At the end of the war, he volunteered to fight against the Bolsheviks in the Russian Civil War and also went on to serve during The Second World War.  

---
On this day 2008, four dead badgers were found in a field near Crymych.
It opened a debate as to whether local farmers had taken the proposed cull of badgers announced by the Welsh Assembly Government, into their own hands; it appeared that the animals had been poisoned or gassed.  The Protection of Badgers Act  1992  makes it an offence to kill or injure a badger unless a licence is obtained from a statutory authority.  
---
Born this day 1920 in Ton Pentre,
Roy Paul , a former Wales soccer international who played as half-back for Swansea Town and then Manchester City, where he spent seven years as captain, leading the club to FA Cup finals in 1955 and 1956,  He is considered to be one of Wales' toughest and best ever players.
---
Good  Friday  is observed by Christians to commemorate the crucifixion of Christ and his death at Calvary.
Gwener Y Groglith is Welsh for Good  Friday  and has several traditions associated with it. One from Tenby involved suspending all traffic and movement in the town while people walked barefoot to church in order not to disturb the earth, Jesus' burial place. There was also a tradition called "making Christ's bed" which involved children making woven figures from reeds and leaving them in quiet places to rest in peace.