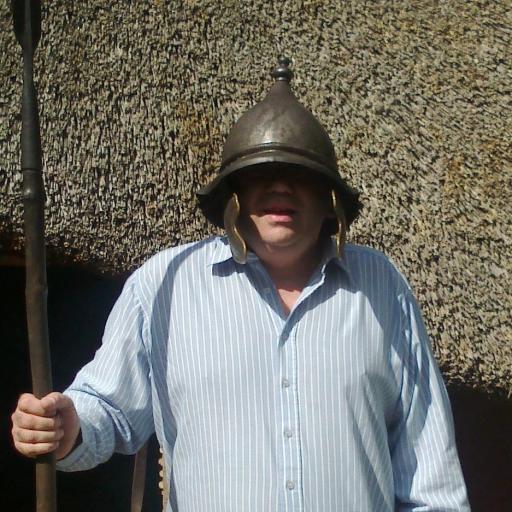 On 10th February 1557, Robert Recorde was imprisioned.  He is best known for introducing the equals sign = and the plus sign + into mathematics.
Robert Recorde, was a physician and mathematician, born in Tenby. He is best known for introducing the equals sign = and the plus sign + into mathematics in his textbook "The Whetstone of Witte" published in 1557.  
Recorde graduated from Oxford University in 1531 and  in 1545 he moved to London where he practised medicine.  In 1549, he was appointed controller of the Bristol mint, where he refused to give money to Sir William Herbert, who was governor to the young king Edward VI. In 1551 Recorde was appointed by the King to be general surveyor of the mines and monies in Ireland and in this capacity he was in charge of silver mines in Wexford and technical supervisor of the Dublin mint.
On his return in 1953, he attempted to regain his court position, by charging Herbert with misconduct, this was a misjudgement as Recorde, who was a supporter of the Reformation was unlikely to get a positive result against someone so close to the Catholic Queen Mary.  Herbert countered Recorde's charges by successfully suing him for libel and Recorde was ordered to pay Herbert £1000 which he could not pay and was therefore sent to prison, where he died in 1558. 
---
On 10th February 1722, Black Bart (Barti Ddu) the pirate was killed by grapeshot.
Barti Ddu, born John Roberts in Little Newcastle, near Fishguard in about 1682, was one of the most successful and the last great pirate of the Golden Age of piracy.  He was responsible for the capture of over 400 ships and over 50 million pounds of loot during his career.  He encouraged prayer, drank a lot of tea and forbade the drinking of alcohol and gambling.  His preferred attire was rich crimson waistcoat and breeches, a hat with a red feather and a diamond cross hanging from his neck.  His success was due to his organization, charisma and daring.  He was also responsible for introducing the pirate code, which crew members had to swear on a Bible to uphold:
In 1719, while working as a third mate on the British slaver Princess, he was captured to be a forced hand by noted pirate Howell Davies and after Davies was killed he was elected captain by his fellow pirates.   At the height of his power, he had a fleet of four ships and hundreds of pirates under his command.  His legendary 30-month career then took him to the West Indies, New England, Newfoundland and Liberia, before coming to an end on February 10, 1722, when the warship HMS Swallow  caught up with him off the coast of Cape Lopez (now Gabon) and he was killed by grapeshot. His crew threw his body overboard as he had requested.  
---
On 10th February  1056, Gruffydd ap Llywelyn defeated an English army at Glasbury and claimed sovereignty over the whole of Wales. 
Gruffydd ap Llywelyn (c. 1007–1063 or 1064) was the son of  Llywelyn ap Seisyll, King of Gwynedd and Deheubarth, who claimed descendency from Hywel Dda. 
According to an early story, Gruffydd was watching a cook boiling pieces of beef in a cauldron.  The cook was complaining that there was one piece of meat which kept coming to the top of the cauldron, however often it was thrust down and Gruffydd apparently took this, as applying to himself, and thus began his rise to power.
1023   On the death of Grufydd's father, Iago ab Idwal ap Meurig became ruler of Gwynedd.
1039   King Iago was killed and  Gruffydd, who had already conquered Powys regained the rule of Gwynedd.  Soon after gaining power, he totally defeated a Mercian army at Rhyd y Groes near Welshpool. 
1041   Gruffydd defeated Hywel of Dyfed at the Battle of Pencader 
1044    Hywel returned with a Danish fleet to try to reclaim his kingdom, but Gruffydd defeated and killed him.
1047   Gruffydd ap Rhyderch of Gwent expelled Gruffydd ap Llywelyn from Deheubarth. 
1052   Gruffydd ap Llywelyn was active on the Welsh border, he attacked Herefordshire and defeated a mixed force of Normans and English near Leominster.
1055   Gruffydd ap Llywelyn killed Gruffydd ap Rhydderch and recaptured Deheubarth. He then allied himself with Aelgar of Mercia and they marched on Hereford, defeating the force of the Earl of Hereford, Ralph the Timid, sacking the city and destroying its castle.   Gruffydd was also able to seize Morganwg and Gwent, along with extensive territories along the border with England.
1056   He won another victory ovner an English army near Glasbury
1062   Harold Godwinson obtained Edward the Confessor's approval for a surprise attack on Gruffydd's court at Rhuddlan, Grufydd was nearly captured but escaped out to sea.
1063   Harold's brother Tostig led an army into north Wales while Harold led a fleet to meet up with him. Gruffydd was forced to take refuge in Snowdonia, and according to the Ulster Chronicle he was killed by Cynan ap Iago, son of  Iago ab Idwal whom Grufydd had killed in 1039.  Gruffydd's head along with the figurehead of his ship was then sent to Harold.
Following Gruffydd's death, Harold married his widow Ealdgyth and his realm was divided back into the traditional kingdoms.
---
Pembroke Dock ( Doc Penfro) lies north of Pembroke on the River Cleddau.  It was originally a small fishing village known as Paterchurch.
1814 - The construction of a Royal Naval Dockyard was to signal a great expansion for the town. 
1816 (10th February), the first two ships were launched from the dockyard – HMS Valorous and HMS Ariadne.  Over the span of 112 years, five Royal Yachts were to be built, along with 263 other Royal Navy vessels.
1844 - As the dockyard  grew, work began to build defensible barracks, which were first occupied by the Royal Marines. 
1849 - 1857 - Two Martello towers of dressed Portland stone were constructed at the dockyard. 
1925 - The Royal Dockyards were made redundant, which greatly added to high unemployment through the Great Depression. 
1931 - The Royal Air Force made a base at Pembroke Dock.
1940 - During the Second World War, Pembroke Dock was targeted by the Luftwaffe, who bombed a series of oil tanks sited at Pennar.  The fire lasted for 18 days and was recorded as the largest UK conflagration since the Great Fire of London.
1943 - Pembroke Dock was used to house the Sunderland flying boats and became the largest flying boat base in the world.  Following the war the town enjoyed a degree of prosperity; 
1957 - It was announced that the RAF would be drastically reducing its presence and a few years later the final British Army regiment also left the town.
1979 - Irish Ferries opened a ferry terminal, connecting to Rosslare, Ireland.  
---
Born on this day 1889 in Cardiff.
Howard Spring - author and journalist.  His most successful novel was "Fame is the Spur", which has been adapted into both a  film and a television series.
 Spring's father died when he was still at school and from the age of twelve he was forced to find work to help his family make ends meet.  He worked as a butcher's errand boy and an accountant's office-boy, before becoming a messenger boy at the South Wales Daily News, where he taught himself shorthand and went to night school to enable him to become a reporter.  He found work as a reporter for the Yorkshire Observer and the Manchester Guardian, where he reported on the First World War, whilst also working for the Intelligence Department in France.  In 1930 Spring joined the Evening Standard, replacing J.B. Priestley as the newspaper's book reviewer and it was at this time that he started writing his series of best-selling novels.
---
Born on this day 1905 in Alltwen, near Pontardawe.
Rachel Thomas - film and television actress, best remembered for her role as a miner's wife in the film "Proud Valley".
 In 1968 she starred in the television version of How Green Was My Valley and in 1971 appeared in the film version of Under Milk Wood, with Elizabeth Taylor and Richard Burton. She was also a mainstay of Pobl y Cwm, the BBC Wales television soap opera.
---
30 miners were killed In a mining accident at Morfa Colliery, Port Talbot on 10th February 1870.