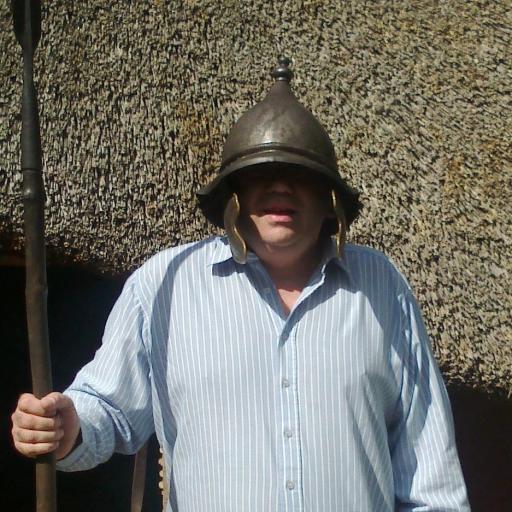 The 9th February is the feast day of Saint Teilo (born c.500)
Reputed to be a cousin, friend and disciple of Saint David, he was bishop of Llandaff, where his tomb is and also founded a church at Llandeilo Fawr, as well as Penally Abbey, near Tenby, his probable place of birth.  
St. Teilo was a great- grandson of King Ceredig of Ceredigion and from a young age, he studied under St. Paulinus of Wales at Wincdi Lantquendi (Whitland), it was here he met and befriended Dewi (St David) and along with fellow students Aeddan and Ysfael, they travelled to Mynyw (St. Davids) where Dewi founded his famous abbey. They were at first however harassed by an Irish pirate named Bwya, but they killed his cattle, burnt his fortress to the ground and ousted him.
Teilo, Dewi and Padarn are said to have travelled to Rome, where they were consecrated as bishops by the Pope. Teilo then succeeded St Dyfrig as Bishop of Glywysing & Gwent and is thought to have the Bishop's Seat to Llandeilo Fawr.
Then in 549 the great yellow plague swept through Wales, so Teilo took his surviving community through Devon and Cornwall to Brittany, where they were greeted by in Dol and from there they moved on to region of Cornouaille, which they saved from the ravages of a winged dragon and stayed for seven years before returning to Llandeilo Fawr.  After the death of St. David, Teilo became known as one of the most holy men in Wales and he was joined at Llandeilo by many disciples:  Teilo died at the Abbey of Llandeilo Fawr and it is thought  Saint Euddogwy brought some of his relics to Llandaff cathedral some 200 years later.
---
On this day 1964  BBC Cymru Wales was launched, to provide a service specific for Wales
Other significant facts relating to BBC Cymru Wales;
13 February 1923 - The first broadcast in Wales, from the radio station 5WA,
The BBC's Bangor base played host to the BBC Variety Department during the Second World War, although this fact was never officially announced.
15 August 1952 - The first television signals in Wales came from the newly constructed Wenvoe transmitter. 
1966 - BBC Cymru Wales opened it's new headquarters at Broadcasting House in Cardiff. 
1970 - The first colour broadcast in Wales.  
---
Born on this day 1847 in Carmarthen.
Hugh Price Hughes - One of the greatest preachers and social reformers of the second half of the nineteenth century.
Hughes was educated at University College London and the Wesleyan Theological College at Richmond.  In 1885, he founded the Methodist Times and in 1896, he was elected first president of the National Free Church Council. 
Hughes was a strong supporter of Gladstone's Irish Home Rule Bills but threatened to withdraw Nonconformist support from the Liberal Party over the Irish nationalist's leader Charles Stewart Parnell's affair with Katherine O'Shea. This led Gladstone to state that he could not remain as the Liberal's leader if Parnell continued to lead the Nationalists, thus precipitating the Parnell Split.
---
Born on this day 1903 in Llanelli.
Gipsy Daniels - Light heavyweight boxing champion of Britain who notably knocked out World Champion Max Schmeling in the first round of a 1928 encounter.
Daniels was a much travelled boxer, whothe American boxing manager Jimmy Johnston, decided to market as a gypsey with a brightly coloured bandana and curtain rings for ear-rings.  Photographers and the press were then invited to meet Billy 'Gipsy' Daniels, King of the Gipsies, who had come from Wales to become the heavyweight World champion.   
---
On 9th February 1963, the paramilitary Welsh nationalist organisation Mudiad Amddiffyn Cymru planted a bomb at the construction site of the Tryweryn Reservoir.
The organisation was founded in response to the flooding of the Afon Tryweryn valley and the village of Capel Celyn to provide water for Liverpool.  The reservoir for the then Liverpool Corporation was passed by Parliament, even though not a single Welsh MP voted in favour.
The organisation remained active during the 1960's and on 30 June 1969, the evening before the investiture of Prince Charles at Caernarfon, two of its members  Alwyn Jones and George Taylor, were killed when a bomb exploded prematurely.