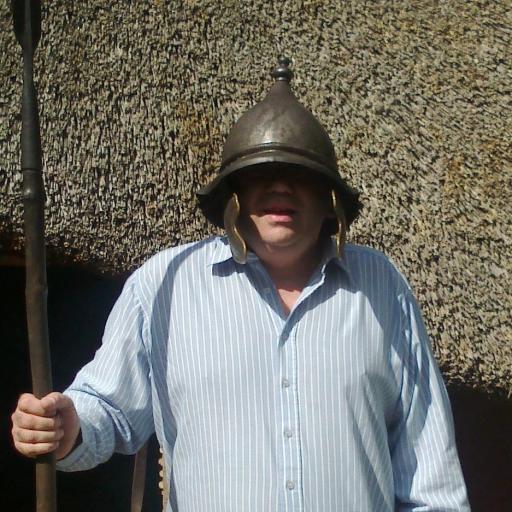 Today is the anniversary of the Battle of Rorke's Drift.
The Anglo-Zulu War of 1879, began on January 11th when the British Army, invaded the Zulu kingdom in an attempt to extend British control in South Africa, as it was realised that this could only be achieved when the Zulu's with its standing army of 40,000, had been suppressed.
 The first major encounter was  the Battle of Isandlwana  January 22, 1879, where a Zulu force of some 20,000 warriors, equipped mainly with the traditional assegai iron spears attacked and overwhelmed  a portion of the British army consisting of about 1,800 men and was one of the British army's worst and bloodiest ever defeats.  As the battle drew to a close several Zulu regiments reached the Tugela River chasing the few escaping British and buoyed by their success  crossed the Tugela and attempted to capture the British base at the river crossing  called Rorke's Drift and which was manned by a single company of 145, mainly Welsh infantrymen.
The fighting was fierce and often hand to hand, but the British maintained discipline, stood firm and only gave fire when the enemy was right upon them.  They then fought them off with bayonets and as the night dragged, they were reduced to a mere handful of men Then when they were almost out of ammunition, the Zulu, who had themselves taken heavy losses, retreated.  King Cetshwayo was captured in August 1879 and Zululand was broken up and annexed.
The supreme bravery of those 145 men of whom seven were awarded  the Victoria Cross (the largest number awarded to a regiment for a single action) is now immortalised in the film Zulu, starring Michael Caine, Stanley Baker and Ivor Emmanuel.   However, the true legacy of this battle is one of unprovoked slaughter by the British Army.
---
Born on this day 1937 in Glanamman
Ryan Davies - popular comedian, singer and actor.
Davies was initially a primary school teacher in London before embarking on an acting career, however, it was when he teamed up with fellow entertainer, Ronnie Williams from Cefneithin, as the comic double act "Ryan a Ronnie" that he became a household name.  They were soon spotted by the BBC and were given a comedy show on BBC One, which proved to be very successful. Additionally, Ryan also starred as  Second Voice  in Dylan Thomas' Under Milk Wood, with Richard Burton, Elizabeth Taylor and Peter O'Toole. 
Ryan and Ronnie split in 1975 to pursue solo careers, with Ryan continuing to work on television and in films.  Ryan died two years later of a heart attack, aged only 40 and there is a commemorative bust in his honour at BBC Wales in Llandaff.  
---
The charity concert, Tsunami Relief Cardiff was held at the Millennium Stadium on 22nd January 2005.  It raised £1.2 million for the victims of the Indian Ocean earthquake of December 2004.  
---
Born on this day 1875 of Welsh parents in Kentucky.
David Wark Llywelyn (D. W.) Griffith - film director, best remembered for his film, "The Birth of a Nation,", which at the time of its release in 1915, was the most successful ever film in the United States and also introduced many innovative filming techniques such as the use of long shots from different angles and alternating close-ups.   The film, however, was highly controversial in the way it portrayed the Ku Klux Klan and African Americans. 
---
Born on this day 1751 at Glanyrafon near Bryn-crug in the parish of Tywyn in Merionethshire.
David Richards, better known by his bardic name Dafydd Ionawr, who was a well known Welsh-language poet.