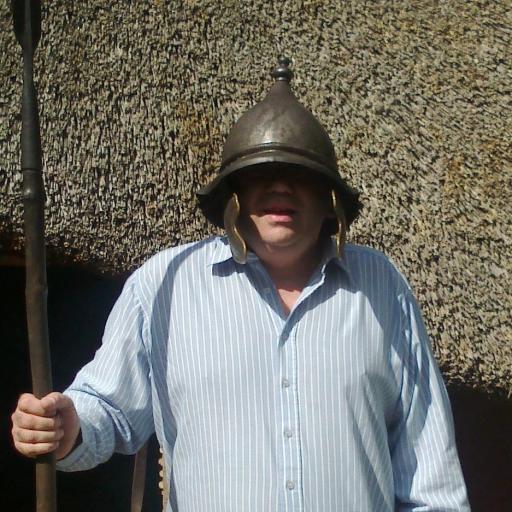 William Williams Pantycelyn (Y pêr ganiedydd - The sweet songster), died on 11th January 1717.
Williams who was born in the parish of Llanfair ar y bryn, Carmarthenshire in 1717, is generally acknowledged as Wales' most famous hymn writer and was also one of the key leaders of the 18th century Welsh Methodist revival.
Williams experienced a religious conversion while listening to Howell Harris preaching in Talgarth in 1737 and took deacon's orders in the Church of England, being appointed curate to Theophilus Evans in the parishes of Llanwrtyd, Llanfihangel Abergwesyn and Llanddewi Abergwesyn.  His best known hymn is Arglwydd, arwain trwy'r anialwch, translated as the English Hymn Guide Me, O Thou Great Jehovah.  
---


Born on this day 1941 in Prestatyn
Barry Flanagan - sculptor best-known for his bronze statues of hares (picture - Thinker on a Rock)  
Flanagan studied architecture at Birmingham College of Arts and Crafts and sculpture at Saint Martin's School of Art in London.  He was the subject of a biographical film by Peter Bach, The Man Who Sculpted Hares: Barry Flanagan, A Life.   
---
Born on this day 1947 in Glynncorwg, Neath. 
Rod Thomas - former Wales soccer international.  
At club level, Thomas made nearly 300 appearances for Swindon, including the 1969 League Cup final and has made the most international appearances ever by a Swindon player.  He moved to Derby County in 1973, with whom he won a first division winners medal.
---
Born on this day 1948 in Swansea.  
Terry Williams - best known as the drummer for Dire Straits between 1982 and 1988.   
---
On 11th January 1970, the last trolleybus ran in Cardiff, the last such system in Wales. A trolleybus was an electric bus that was run by the electricity supplied from overhead wires, through spring-loaded trolley poles. It differed from a tram in that it didn't need tracks. 

1902 - The Corporation of Cardiff introduced electric powered trams, when it took over the private Cardiff Tramway Company which had been supplying a service of horse pulled trams and buses since 1870.  Private operators had been running horse buses since at least 1845.

1914 - The first trolleybuses in Wales come into operation in Aberdare.  They were initialy however beset with problems as they suffered damage from the poor road surface and the electric collectors (nicknamed the 'monkey') were prone to drop off the wires and land in the street.

1942 - The first trolleybuses were introduced in Cardiff.  In terms of comfort and speed, the trolleybus was popular with passengers, as the lack of vibration and the quietness made them very comfortable.  However, their quietness earned them the nickname "the silent death" as pedestrians quite often could not hear them coming.  Cardiff was unusual in that it had single-deck trolleybuses as well as double-deckers, due to several low bridges in the docks area.
19 62 - Motor buses began to replace the trolleybuses.  Motor buses were operated since the early part of the 20th century, but early journeys would have been uncomfortable as pneumatic tyres were not fitted until 1924
1970 (11th January) - The last trolleybus ran in Cardiff.