Issue 232 of Planet: The Welsh Internationalist is now here! Take advantage of exclusive half-price offer on subscription for AmeriCymru readers...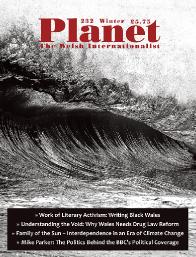 The Welsh diaspora and other worldwide subscribers can enjoy either a standard print + digital subscription - or a cheaper digital-only option of only $14.00 , where you can also read recent back issues. Find out more about the special offer here: www.planetmagazine.org.uk/americymru
Every quarter, you will receive 96 pages packed full of Welsh-focused and internationally concerned issues. The current issue includes the following:
Welsh Keywords: Teulu
Our Welsh Keywords offers contemporary perspectives on the meaning of words in Welsh, inspired by Raymond Williams'  Keywords . In this issue, Jane Aaron traces the history of the concept of  teulu  ('family'), and how long after the English word came to denote blood ties, teulu  evoked bonds far beyond class and even national borders, from communal dancing under the rafters of the gentry's Great Halls to contemporary political consciousness…
Every Nation Needs a Narrative
Rebecca Brown is the winner of our 2018 Young Writers' Competition. In her article, she reflects on how nations are piecing together new meta-narratives, after twentieth-century postmodernism shattered old certainties. She contrasts Trump's Make America Great Again myth-making with endeavours in Wales to create a narrative of hope and intergenerational justice.
New Seams of Solidarity: Wales and Ukraine
Mick Antoniw AM draws on his family background as part of the Ukrainian refugee community, and his experience on the EU's Committee of the Regions, to detail how Wales could build on its historic relationship with Ukraine, from coalfield solidarity to language planning, and learn from other non-EU member nations further east how Wales could forge an alternative set of relationships with the EU after Brexit.
Understanding the Void: Drug Law Reform & Libertarianism
Poet Sophie McKeand describes what prompted her to sell her possessions and head to the continent in a van. She discusses with fellow left-wing libertarian Plaid Cymru Police Commissioner Arfon Jones what this philosophy could mean in the context of drug law reform, detailing the practicalities of decriminalisation and regulation of illegal substances, and how this could reduce the suffering caused by the 'war on drugs'.
A Question of Literary Activism: Writing Black Wales
Charlotte Williams gives an in-depth study of myriad forms of Black writing in Wales, arguing that recognising Black Welsh writing is an expression of cultural democracy that expands the boundaries of the national imagination, in ways which can benefit everyone.
The Virtual Celt
Aidan Byrne argues that video games from the era of the ZX Spectrum to the twenty-first century indie studio are a powerful medium for reinforcing representations of Celticity worldwide that the Victorians would recognise. Here the 'Welsh' or 'Irish' character exudes barbarity or ethereal mysticism, is backward and irrational; and should ultimately face conquest…
The issue also features poetry and reviews by both new and established authors from Wales and beyond. Find out more about the current issue of Planet here: www.planetmagazine.org.uk/current
Planet: The Welsh Internationalist has offered a radical and independent approach to the politics and culture of Wales and the world since 1970. Planet is a great way to keep in touch with the latest thinking coming out of Wales today.
We are delighted to offer AmeriCymru readers an exclusive introductory 50% discount on subscriptions to Planet . Follow this link to find out more! www.planetmagazine.org.uk/americymru
If you would like any further information, please contact us at admin@planetmagazine.org.uk.
"Time and again, Planet has taken me upwards and outwards from the fulcrum of Wales to the furthest reaches of discussion and discovery."  - Jan Morris

updated by @planet-the-welsh-internationalist: 11/27/18 05:40:02PM