Wales at Lorient Interceltic Festival 2010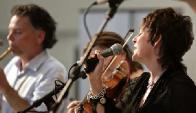 12/13/15 08:27:15PM
@carreg-lafar
Young Welsh folk band Calan won first prize in the folk group competition at this year's Interceltic Festival in Lorient on its 40th anniversary. Fifteen groups from the other Celtic regions took part and Calan won the unanimous decision of the judges to take first prize.

Calan were also performing as part of the Wales delegation, supported by the Welsh Assembly Government, for this celebratory year, along with contemporary Celtic folk band Mabon; also performing were Parti Cut Lloi, a male voice folk choir from Montgomeryshire led by singer and harpist Siân James, Dawnswyr Nantgarw, one of Wales' top traditional folk dance teams and harpist and singer, Gwenan Gibbard. The visual arts were also represented by painters Neil Carroll and Sarah Carter, through the support and sponsorship of Cynon Valley Museum and Gallery.

Calan's success rounded off an excellent week for the Welsh performers at the annual Celtic gathering, the largest to date - an estimated 800,000 people visited the small Breton city over the ten days. The quality of the Welsh musicians, dancers and artists lifted the profile of Wales and audiences showed their appreciation night after night. On Saturday 7th August, Parti Cut Lloi, Dawnswyr Nantgarw and Gwenan Gibbard performed to 11,000 people in the opening spectacular 'Nuit Interceltique', with Mabon and Calan performing to packed venues at all their concerts. Parti Cut Lloi were also fortunate to be involved in a performance of a new symphony based on themes of Celtic music, composed by Didier Roper and performed for the first time in the festival's main 3,000- seat pavilion.

However, despite the impact made by the Welsh performers and artists, Wales was also conspicuous by the absence of a pavilion in a year when all other Celtic regions were present. Cornwall and the Isle of Man provided pavilions to present their culture and tourism, alongside the Scots, Galicians, Asturians and Irish.

Brittany was the featured region for this 40th anniversary, showcasing its enormous amount of musical and cultural talent. Next year will feature the Celtic Diaspora, Celtic peoples who have made their homes in other parts of the world like Nova Scotia, Patagonia, the United States and Australia, but still hold fast to their traditions and languages.

The ten day event closed on Sunday evening with a two-hour broadcast of the 'Nuit Interceltique' for the first time on prime-time French television, featuring the Welsh performers alongside those from the other regions. Antwn Owen Hicks, organiser for the Wales delegation, said, "After 40 years, the festival continues to go from strength to strength. It is a unique and valuable event for Wales to be involved in, for Welsh performers and artists to engage with audiences on this scale and to meet and collaborate with artists from the other Celtic regions. Long may it continue!"
www.festival-interceltique.com