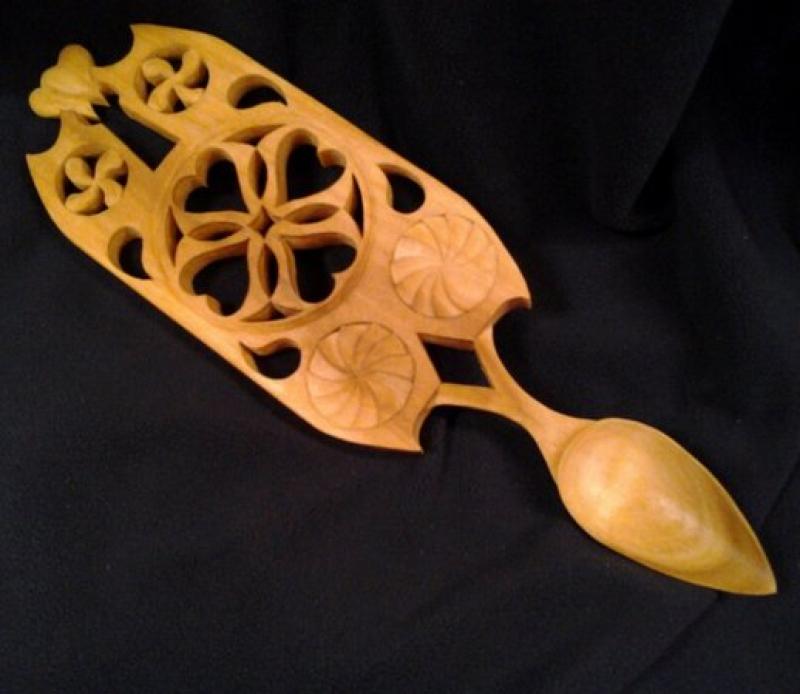 This Welsh lovespoon I call the Four Hearts Lovespoon. I hand carved this lovespoon from poplar, one of my favorite woods, and finished it with walnut oil. I carved the spoon using only knives trying to stay as close as possible to the means and methods of the rural Welsh swains who started the tradition.

The gift of a love spoon as a token of affection and commitment stems from ancient times with examples from all over the world. The most widespread and enduring tradition began in Wales in the mid-1600s. The tradition, which continues to this day, tells us that a young man in love carved a spoon, in itself a symbol of food and plenty, to be presented to the young woman he fancied. Since romance was involved the design of the spoon often included symbols of love, protection, stability, the ability of the suitor to provide for a family, luck, prosperity and many other things. Tradition also tells us that if the young woman accepted the love spoon, she also accepted his love, so it was sort of a rural engagement ring. We don't know if that is strictly true, but if it isn't, it should be.

This love spoon features an elongated bowl attached to a carved panel with a gracefully curved and pierced stem. The panel contains elements symbolizing the eternal wheel of life, the joining of male and female in marriage, romance, fertility and prosperity. It will make a great gift for an anniversary or wedding as well as other occasions. It is about 12" long, and 3-1/2" wide.

This love spoon would make a wonderfully unique wedding gift. It is my original design, and there is not another like it in the world. A gift of this spoon would mean so much more than something purchased in a mall.

All of my designs are original and under my copyright. Do not copy. This is a One Of A Kind carving. I will never repeat this exact pattern.

Shipping within the continental United States is free.