Gwenno In Boston - A Review By Aug Stone
2016-05-18
By: Aug Stone
Posted in: Music
Gwenno at Great Scott, Allston, MA May 16, 2016 (Photos by Eddy Leiva Photography)

---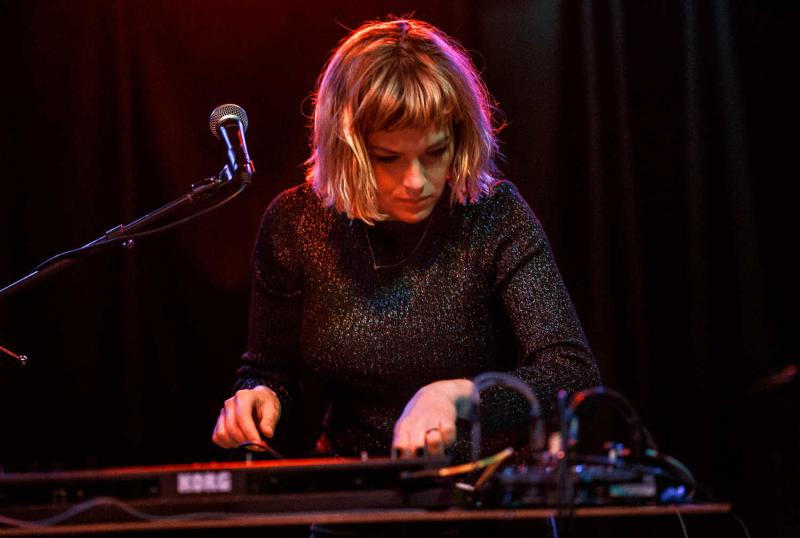 Gwenno strolls on stage with no fanfare and presses play on a rhythmic throbbing bass line. Kick snare kick snare enter and pulse along, white noise, and a simple three-note synth melody. Gwenno knows how to let these things build and she's slowly bringing in the elements of the title track of her Welsh Music Prize-winning album, Y Dydd Olaf.
The set-up is minimal, just her behind a makeshift table on which sit her synthesizer and effects pedals, but the sound is huge.
Next up is single 'Patriarchaeth', a fantastic pop number especially with its 'oo's at the end. The songs (barring the final number, which is sung in Cornish) are all in Welsh and Gwen introduces this one as "this song is called 'Patriarchaeth' which means 'patriarchy' which means a really shit time for everyone".
Despite the heaviness of the themes, there's playfulness - and humor in her talking about them - which makes for the richness of the listening experience. Gwenno smilingly announces the third song - a cover of 80s Welsh electronic music pioneer Malcolm Neon's 'Nefolaidd' – "a pretty happy song in contrast to most of my own". The title means 'Heavenly' and, along with Gwen being a big fan of Neon's work, it's a nice nod to Heavenly Recordings, the label who picked up Y Dydd Olaf last year. A studio version of 'Nefolaidd' can be found on the bonus disc of the album along with b-sides and remixes.
There's a noticeable stylistic contrast as soon as she begins, this is stark, 80s cold wave. Gwen's voice has warmed up now and it's interesting to hear her sing a melody that isn't her own. She takes a different approach tonally, the pronunciation of the 'o's in 'o-o-o-o' section especially grab one's ear. It all comes as an intriguing surprise, not least the end section which jumps through hyperspace into a frenetic stabbing outro.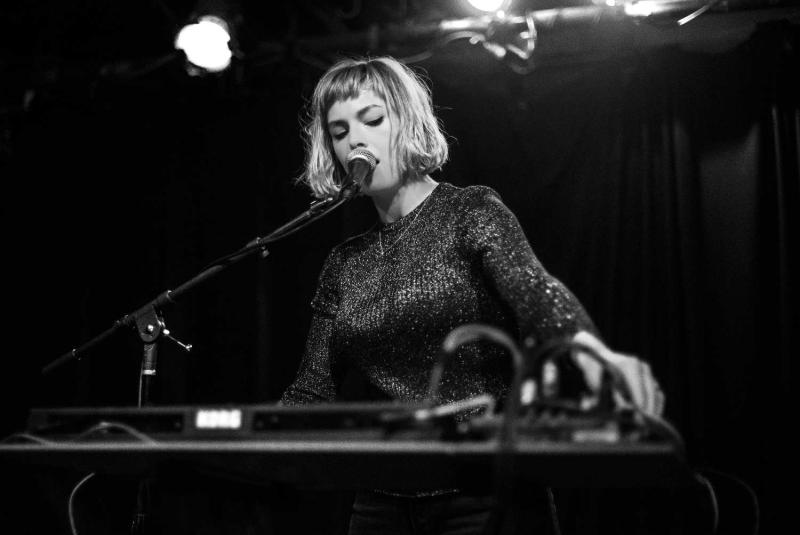 "This one was inspired by Chelsea Manning. It's about exposing war crimes, media manipulation, happy stuff". An ominous single synth note crescendos as 'Calon Peiriant' (The Heart Of The Machine) begins to form under it. It's lovely how Gwen's vocals sit here in the midst of the propulsive forward motion of its juggernaut rhythm and the jarring, abrasive synths floating in and out of the action.
'Sisial Y Môr' fittingly (as it translates to 'The Whispering Sea') begins as an ocean of sound. This ethereal undulating bed, evoking a twilight psychedelic shoreline, with aggressive swarms passing over and thru. I've seen this song performed numerous times and it always seems to appear in a different body, and sounding more audacious than on record. The sonic theme continues through the outro as huge waves wash over. And then there's even a cool extension tacked on the end, a captivating melody underneath with its notes sounding like they're breaking apart.
"This song is about the power of people when they get together. Change can happen, we've seen it happen." And 'Chwyldro' ('Revolution') starts off a cappella over spacey effects, slow, drawn out, before the tempo kicks up and into the actual song.
Gwen seems really into it now despite "having been up for two days" (their journey began with a four-and-a-half hour bus ride from Cardiff to Gatwick Airport the previous morning, arriving in Boston the night before the gig) and the positivity of her introductory words is very much reflected in the performance of this excellent tune, one of the most badass grooves of recent years. Gwenno smiles throughout and wonderfully trills the note going into the second chorus. The song ends as it began, a cappella.
Gwen then tells us about the sci-fi novel that inspired her album of the same name, Y Dydd Olaf by Welsh nuclear scientist Owain Owain. A dystopian world where everyone is getting turned into robots, the narrator writing the book in the form of a diary and only escaping the mechanical overlords' notice by nature of it being in Welsh, which they can't understand.
This is by way of introducing 'Fratolish Hiang Perpeshski', its title being the nonsense phrase the narrator repeats to himself as he loses his mind at Y Dydd Olaf's end. "So this is the final dance before he himself gets turned into a clone and loses his soul. It's also inspired by major label pop music…"
Gwen stops for a second and smiles, "I mean that in a complimentary way." And 'Fratolish' is Fierce. Ethereal and Fierce. A magnificent dance tune. It sounds great in this club setting. Gwen leaning over her Korg to let forth a rad arpeggiated bit in the extended break before the outro. And with a sweep it's done.
Which brings us to last song, 'Amser'. Which is sung in Cornish, "a Celtic language not dissimilar to Welsh" and Gwen tells how the UK government has just cut all of the minimal funding there was for the Cornish language.
A tri-linguist herself, Gwen talks passionately about how important language is to her and to everyone. And what follows is a spirited version of the tune, a meditation on Time, the song standing proud against Time's passing and decay, which is all we can really do. And this is evident in the jubilant musical turbulence of the song's ending where there are usually just vocals, continuing on before Gwen exits the stage to two repeated blips.
A great performance which really had a powerful effect on the crowd, who all lined up to buy merchandise and talk to Gwenno post-gig.
I overheard one gentleman saying 'Thank you so much for playing. We get lots of shows coming through Boston but this was really unique and interesting."
And a friend commented to me 'That was great. I thought there would some barrier with the songs all being in Welsh, but there wasn't at all." Which goes to show the power of music and reinforce one of Gwenno's central messages - that it's about people coming together to communicate with each other and make things happen.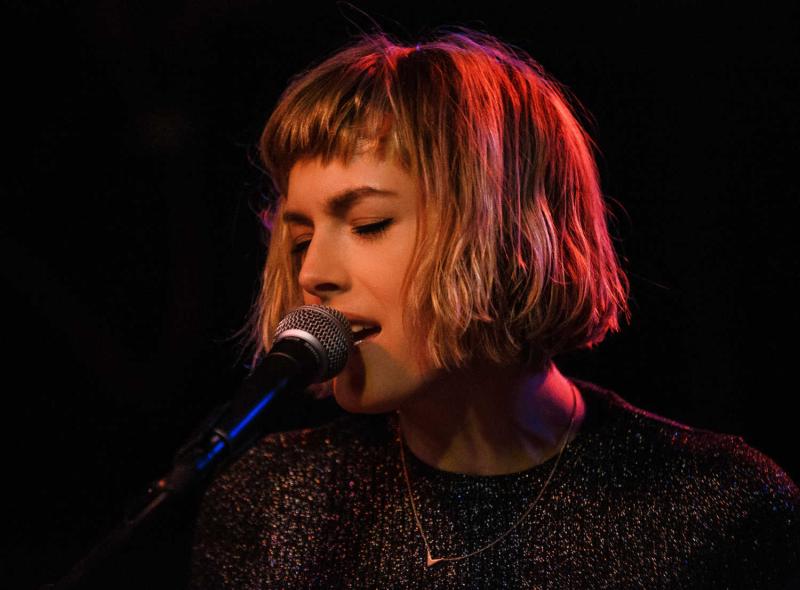 ---
Upcoming Shows In Brooklyn, Washington D.C. and Durham N.C.
---
..
Wednesday May 18th 2016, 8:00 PM
@ Rough Trade NYC 64 North 9th St Brooklyn, NY
..
Thursday May 19th 2016, 9:00 PM
@ DC9 Nightclub 1940 9th St. NW Washington, DC
..
Saturday May 21st 2016, 7:00 PM
@ Moogfest 2016 First Presbyterian Church 305 E Main St Durham, NC