Stats
Blogs: 30
events: 5
youtube videos: 1
Welsh Diva Iris Williams Returns to New York City's Metropolitan Room
2016-09-28
By: Bob Titley
Posted in: Blogging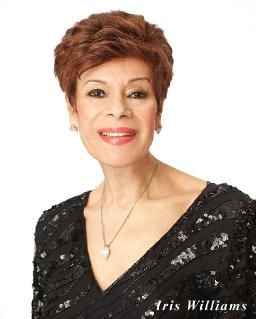 Media Contact:
Finell Enterprises
212 734 6369
Welsh Diva Iris Williams Returns to New York City's Metropolitan Room
So "Let the Music Begin" at the Metropolitan Room on October 22
New York, NY – September 28, 2016– International song stylist Iris Williams returns to the Metropolitan Room for one night only on October 22 at 7pm, direct from her performance interpreting Sondheim at the Cabaret Convention on October 19.
Since her Metropolitan Room debut in 2013, Iris has sold out at Birdland Jazz in NYC and won critical acclaim for performances at Catalina's in Los Angeles. She is looking forward to returning to the Metropolitan Room, one of the few remaining cabaret rooms in America.  Ms. Williams invites you to  "Let the Music Begin" as she interprets standards by the likes of Johnny Mercer, Irving Berlin, Stephen Sondheim, Jerome Kern, Oscar Hammerstein, Nat King Cole, Carole King, Ashford & Simpson and Edith Piaf on October 22 at 7.00 pm. Metropolitan Room Buy Tickets .
To quote The New York Times' Stephen Holden, "This demure Welsh singer has one of the most striking voices in all of cabaret..."  The vivacious and elegant chanteuse, who always performs with a mischievous twinkle in her eye - ..." – says, "The Metropolitan Room's coziness suits me down to the ground.  It'll let me keep the audience where I like them – up close – in a hug – or 'cwtch' as we say in Welsh." Iris Williams sings "Dreams"
Ms. Williams' rich, warm contralto impelled her far beyond the borders of her beloved homeland, Wales.  A scholarship student at The Royal Welsh College of Music and Drama, her classical training helped Iris to thrive when her honest and touching rendition of the pop classic "He Was Beautiful" went gold and then platinum, launching the already-accomplished singing actress on an international career.
Now based in New York, the much-loved songstress still performs frequently in Wales. Awarded the OBE (Order of the British Empire) in 2004 by Queen Elizabeth II for her musical accomplishments and her work with charity, Iris has performed at The Algonquin's Oak Room, for President Gerald Ford and the British Royal Family, and with Tom Jones, Bob Hope, Rosemary Clooney and many others. She is currently filming a British TV special.
Catch Iris Williams at The Metropolitan Room on October 22 at 7.00pm. www.themetropolitanroom.com ; 34 West 22 Street, New York City; 212 206 0440.
###