Award-winning Welsh author pens "remarkable" new psychological suspense novel
2018-11-26
By: Cathy Ace
Posted in: New Books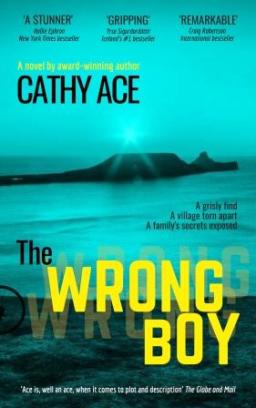 Award-winning crime fiction author Cathy Ace (Swansea born and raised) is launching her latest novel THE WRONG BOY on January 9th 2019 (now available for pre-order). Known for her Cait Morgan Mysteries (featuring her Welsh Canadian criminal psychologist sleuth) and her WISE Enquiries Mysteries (featuring four professional female PIs who run their business out of a Welsh stately home) she has now turned her lens on Wales in a different way - a darker way. Early comments about the book suggest it will appeal to those who have enjoyed recent Welsh crime TV series like Hinterland, Keeping Faith and Hidden. Cathy now lives in British Columbia, Canada, and enjoys returning to her Welsh home whenever she can. This new book is set in the real location of Rhossili - though she's changed its name to protect the innocent!
Here's a taste of what the book is about - with some of the early comments about it:
Perched on a Welsh clifftop, the ancient, picturesque hamlet of Rhosddraig has its peaceful façade ripped apart when human remains are discovered under a pile of stones. The village pub, The Dragon's Head, run by three generations of women, becomes the focal point for those interested in the grisly find, and it's where layers of deceit are peeled away to expose old secrets, and deep wounds. The police need to establish who died, how, and why, but DI Evan Glover knows he can't be involved in the investigation, because he's just two days away from retirement. However, as the case develops in unexpected ways, it becomes irrevocably woven into his life, and the lives of local families, leading to disturbing revelations – and deadly consequences . . .
EARLY COMMENTS:
"A disturbing storyline of family secrets, deftly told, and with a remarkable sense of place. Almost mythic in nature, it's narrated by a chorus of voices which stay with you all the way to the stunning ending and beyond." Craig Robertson, international bestselling author
"Family secrets stalk three generations of women in Cathy Ace's suspense-packed page turner, THE WRONG BOY. The ending is a stunner." Hallie Ephron, NY Times bestselling author of 'You'll Never Know Dear'
"…a truly gripping and strong narrative, coupled with a story line that is both intriguing and thoroughly entertaining." Yrsa Sigurdardóttir, award-winning, No. 1 bestselling Icelandic crime fiction author
"A clever plot with a web of intrigue and characters who stay with you." Jane Corry, author of the Sunday Times bestsellers 'My Husband's Wife', 'Blood Sisters' and 'The Dead Ex'
"Cathy Ace's skill at evoking place is a stand-out highlight of The Wrong Boy, a neatly wrought story which combines a mystery…with a study of tangled relationships within a close-knit community…" Martin Edwards, author of 'Gallows Court' & winner of the CWA Dagger in the Library
"A close-knit community in a quaint Welsh village in an area of outstanding beauty. Sounds cozy. But Cathy Ace's stunning new standalone, THE WRONG BOY, is about as cozy as a cornered snake. Told in a rising chorus of authentic voices, the story is deft and disturbing, creepingly claustrophobic, and with a grip that tightens to a choke-hold before its shattering conclusion."  Catriona McPherson, multi-award-winning author of 'Go To My Grave'
"Drenched in Welsh atmosphere, forbidding weather, and mysterious folklore, THE WRONG BOY is a gem of a thriller that bewitches right up to the twisted ending you won't see coming. Masterful plotting and characters so real, you'll swear you know them. Ace is a master portraitist." James W Ziskin, multi-award-winning author of The Ellie Stone Mysteries
'Like a slow pot that boils, the author builds...this tightly-woven and intriguing mystery...grippingly riveting as the story came to a dramatic climax.' Dru Ann Love, Dru's Book Musings, MWA Raven Award Recipient