Prince Madoc Plaque Information - Alabama Welsh Society

2016-02-14
By: Janice
Posted in: alabama welsh society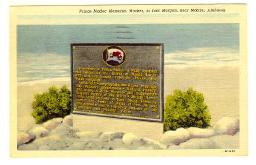 Good News! The Prince Madoc Plaque Resolution passed in the House today, 10 March 2009. So... now comes the hard part again. We are back where we were at the end of the Legislation session last year when the Senate never voted on this so it died. We now need to get the HJR #309 put on the Senate calender and passed. I need all of you to call Senator Barron's office and request that HJR 309 be put on the calendar and passed. His office number is (334)242-7858. PLEASE take 5 minutes of your day and make this call. Send an email to all your friends and relatives in Alabama to ask them to do this one little thing. Thanks for all the support and help with this endeavor.
The Prince Madoc Plaque Resolution has returned to the Alabama Legislature inMarch 2009. The new Resolution number is HJR 309. Please contact yourHouse Rep. and Senator for support of this resolution! Urgent!
Prince Madoc Plaque to be restored!
The Prince Madoc Plaque is being restored for public viewing at the D.A.R.House in Mobile, Alabama. It is being cleaned, then D.A.R. will place it in the garden of the D.A.R. House. A job well done for all of us involved in getting it taken out of storage at Fort Morgan. The petition has over 1800 signatures which is a fantastic accomplishment for all those who worked tirelessly on a daily basis to spread the word about the petition. David Parry with the Chicago Welsh Tafia, Ceri Shaw with AmeriCymru, and Carwyn Edwards with the Welsh League of Arizona have all given so much of their time and energy towards this campaign. The AWA will always be grateful for their support. This campaign has been successful in more ways than one. It has brought together Welsh around the world making new and lasting friendships. The Alabama Welsh Association will continue to work towards broadening the awareness of Welsh contributions to Alabama, and the U.S. each and every day. We will continue to work towards having a Park name after Prince Madoc in Alabama as we feel whether he did or did not land on our shores in 1170, the Welsh have contributed so much to our great state that one of their oldest "Legends" should be honored, thus by doing so would honor ALL WELSH. Thank each of you for the part you played in making this happen!