All proceeds from this sale go to the Voices of the Valley fund raiser which is raising money to send the Valley View High School Choir to Wales in 2017 . 

To purchase just click the shopping cart icon above.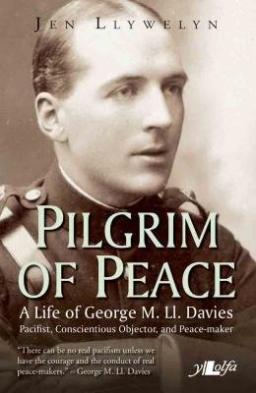 Almost hundred years to the day the Military Conscripton Act came into force, the life of one of the most famous Welsh pacifists of the 20th century is remembered.
A Pilgrim of Peace by Jen Llywelyn is the biography of the Welsh pacifist, George M. Ll. Davies.
Born in 1880, George M. Ll. Davies is best remembered and most revered as a peacemaker but his full life reflected a broader spectrum of interests and activities that place him at the heart of life in late nineteenth and early twentieth century Wales. He was also a non-Conformist minister in Tywyn and became MP for the University of Wales.
'This charismatic Welshman worked ceaselessly, with quiet strength and humour, to achieve reconciliation between individuals, and in industry and politics.' said author, Jen Llywelyn. 'He suffered with mental illness all his life, but few knew.'
He committed suicide in Denbigh Hospital in 1949.
From his roots in the Liverpool Welsh community, his life, with its complicated relationship with organised religion and his uncertain engagement with party politics, embodied change and uncertainty as much as constancy.' says Professor Paul O'Leary of Aberystwyth University, 'He was a complex figure, whose life reveals much about the challenges and pressures of his period.'
'This is a a lasting testimony to a true son of Wales – which is, I now have no doubt, as far removed from England as my native Scotland.' added academic Frank McGinnis 'The author has ensured the reader understood the love George had for his country and his people.'