10% OFF WHILE STOCKS LAST- SPECIAL PRICE FOR AMERICYMRU READERS
Original Price $9.00 / Our Price $8.10+$3.99 handling=$12.09
Offer applies in U.S. only. Price includes shipping and handling $3.99. If you are a member and logged in to AmeriCymru use the shopping cart symbol above to purchase. If not, please use the PayPal button below. You can purchase with your debit or credit card if you do not have a PayPal account.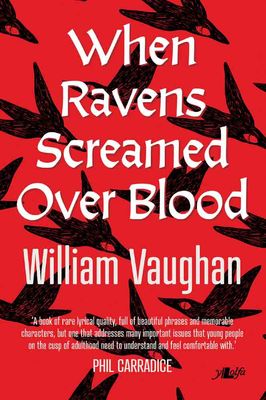 Full of vivid imagery and compelling characters, Tolkienesque fantasy novella When Ravens Screamed Over Blood is set in West Wales at the time of the Roman invasion of Britain. It is the story of a perfect prince who falls headlong into love, only to be laid low by the evil forces of prejudice and imperialism.
William Vaughan was born in Cardiff and studied History and English at Leicester University. He taught in Leicestershire and Cardiff before becoming a writer of fiction.
...
Shipping and Handling:
$3.99