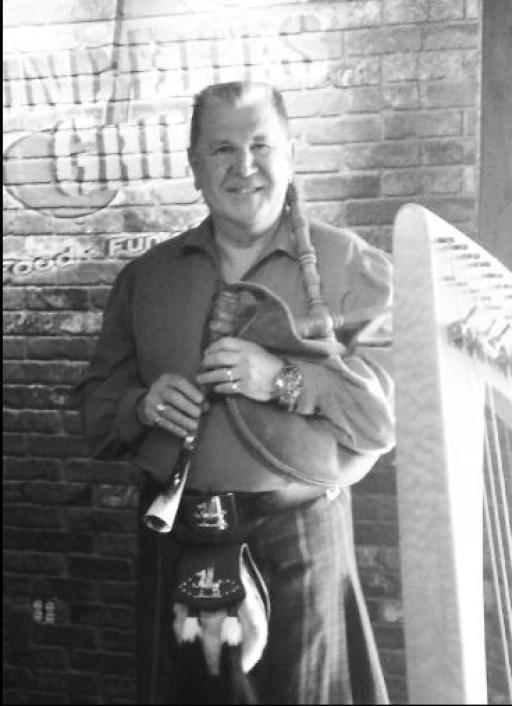 Stats
Blogs: 10
events: 9
youtube videos: 11
images: 2
Item Bundles: 6
audio tracks: 53
The one and only album of the seminal Welsh American acoustic band Afan.
---
Liner Notes
---
Can Merthyr (trad.) : "The Song of Merthyr" is named after a town in South Wales. About the year 1848, D. Davies heard an old ballad singer performing this song on the Market Square at Merthyr Tydfil. At that time, there were at least 24 verses on the ballad sheet but by 1909, when the song was sent to J. Lloyd Williams, the informant could remember only four of them. The style is macaronic, mixing Welsh and English.
Cwrw Da , The Butterfly (trad./trad.) : Two slip jigs. The first is from Wales and means "Good Beer." The second is a familiar Irish tune. In live shows we perform these slip jigs in a long set with the next three tracks, ending with the Waterfowl Set.
O'Carolan's Air , O'Carolan Goes to the Bahamas (trad.) : Compositions by the blind Irish harper, Turlough O'Carolan (1670-1738), are common fare amongst musicians. In the genre of the time, this form of Irish music was composed and performed as formal "drawing room" pieces for upper-class patrons. Here we present a straight-ahead version of the air that then changes keys and turns from waltz time to a reel, with a beat suited to warmer climes. The Bahamas variation was introduced as a joke by our former harper John Piggott during a rehearsal. It was funny, but also so good that we kept it. Perhaps it's the vacation Turlough dreamt of but never had…

Kevin Goes to Town : A bodhran solo is like the summer heat in Arizona. You know it's coming, but there isn't anything you can do about it. This was originally introduced to allow Caven to change from his uilleann pipes to his Iona smallpipes for the next tune set.
The Geese in the Bog, The Duck, The Curlew (Trad./D. MacLeod/D. MacLeod) : Three jigs here in Afan's waterfowl set. The first is found in both Ireland and Scotland with some variations, such as about six different melodies of the same name. The latter two are compositions by the late Pipe Major Donald MacLeod, a pre-eminent composer and performer of both piobaireachd and ceol beag of the Highland bagpipe. "The Duck" represents P/M MacLeod's skill in musical parody: the tune was composed "in honour" of a fellow who thought very highly of himself and strutted about like a duck.
*The Duck and The Curlew copyright D. MacLeod–D. MacLeod/MCPS/Harry Fox
I Dreamed I Saw St. Augustine : (B. Dylan) Afan's song book includes the folk and traditional music of North America. This anthem written by Bob Dylan, first appeared in 1967 on his album "John Wesley Harding", the long-awaited return of the poet to recording.
*copyright 1976 Dwarf Music
Song of the Water Kelpie , Y Deryn Pur (Trad./Trad.) : Water kelpies are mythical creatures of Scottish tradition that appear as white horses at the seaside. Once mounted, the rider is taken underwater, never to be seen again. In " Y Deryn Pur" ("The Gentle Bird"), a young man sends a bird with a message of love. It was first published in 1848 in Ancient National Airs of Gwent and Morganwg.
Afon Afan (J. Good) : An original composition by John Good: "The River Afan ran at the bottom of my Grandparent's garden, in the house in which I spent my first three years. Fifty years later, it continues to run through my life."
*copyright 2001 John Good
Nonsuch, Me anvez eur g oulmik , Beardance (Trad./Trad./Trad.) : Nonsuch may have something to do with one of Henry VIII's castles in Surrey, but we're not entirely sure. It was evidently a popular dance piece in the mid 17 th century, and we still like it today. The Breton tune in the middle, in addition to being unpronounceable, is untranslated. Nice tune, though. Although found on a few recordings, the origin of "Beardance" is unknown. It has an eastern feel, but we're still looking. Obviously, we don't know much about this set.
Llwyn Onn (Trad.) : A familiar Welsh song, "The Ash Grove" was first published by Edward Jones (Bardd y Brenin, 1761-1836) in "The Bardic Museum" (1802). This setting outlines the tragic end to a love suite.
Big Mon, Whiskey Before Breakfast, Wind that Shakes the Barley : (Bill Monroe/ Trad./Trad.) "Big Mon" is one of the many magical tunes written by the late great father of Bluegrass, Bill Monroe. Being from Scottish-Irish roots, Bill wrote many tunes with a Celtic feel, as he was a great fan of the "ancient tones." With Bill's heritage peeking through, it is easy to see why "Big Mon" fits as easily as it does with traditional favorites "Whiskey Before Breakfast" and "Wind that Shakes the Barley."
*Big Mon copyright 1981 Bill Monroe Music
The Mermaid, Gol na mBan san ar , Ar Lan y Mor (Trad./Trad./Trad.) : The first two tunes are airs. The second one, the title of which translates "Lament of the Women in Battle," was first published in 1786. It is played a bit up-tempo for a lament. Just be thankful we didn't rename it. The last song, "Along the Seashore," is Welsh and is about new love. The words are a typical example of the "Triads" of old Welsh literature. Of the three objects or ideas mentioned, the third often forms a kind of climax to the other two, or in some cases it is contrasted with them. In this case, the song climaxes with a verse comparing the singer's lover to a magic cow. With silver horns. That milks itself. Go figure.
Suo Gan , Merrily Kiss the Quaker's Wife, Queen of the Rushes (Trad./Trad./Trad.) : The air which begins this set is a Welsh lullaby with words by the late Robert Bryan who notes that the melody was taken from an old book in the possession of Mr. Orwig Willians, Llanberis. The words are a mother's assurance to her baby that he may safely sleep in her bosom–there is nothing but the wind rustling the leaves by the door to worry him. The two Highland pipe tunes are traditional jigs found in both Scotland and Ireland.
Kelly Anne, Mae'r Ddaer yn glasu , John's Late Again (J. Good/Trad./J. Good) : The first tune in the set was written by John in appreciation of his wife: the love, the fun and the unselfish way she supports his music. " Mae'r Ddaer yn glasu" ("The Earth is Greening") was a melody noted in Anglesey toward the closing decades of the 18 th century and forms part of a collection that is now in the Welsh Folk Museum at St. Fagans. The verse here describes the coming of summer. "John's Late Again" was written by John Good for our departed harper who was, as the name implies, often late.
*Kelly Anne and John's Late Again copyright 2001 John Good
Stumpie, Ffidl-Ffadl , Pwt-ar-y-Bys (Trad./Trad./Trad.) : One of the things Afan likes to do and does well, if we do say so ourselves, is the discovery of cross-pollination among the musical traditions of the Celtic lands. Here we took "Stumpie" from a strathspey into a reel version of the same tune, bridged it with a fun melody of Welsh origin, introduced a Welsh reel and then mixed them up unmercifully at the end. "Stumpie" was a tune collected by Robert Burns and published in his collection of love songs, "The Merry Muses of Caledonia," ca. 1734. " Ffidl Ffadl ," according to Welsh fiddler Sean Philips, has no specific translation, but she feels refers to "messing around or fiddling." The Welsh reel " Pwt-ar-y-Bys" has much in common with "Stumpie" and dates either before or after this period, depending on who actually wrote it and who stole it. The name refers to "callous on the finger," probably from playing the harp.
Afan are:
John Good: whistles, flutes, recorders, vocals, guitar
Kevin King: bodhran, guitar, vocals
Caven Clark: "D" smallpipes, "A" smallpipes, "D" uilleann pipes, Highland pipes, whistles, harp, vocals
Billy Parker: mandolin, resonator mandolin, guitar
Eileen Connell Clark: dancer
With guest flautist Mary Gilchrist on Llwyn Onn .
Afan was originally assembled in 2001 to promote the neglected traditional music of Wales. Although that mission remains intact, the focus has been broadened to include the music -- neglected and merely lovely -- of all Celtic nations; not to mention the fascinating hybrids, planted by earlier Celtic immigrants, that we find flowering everywhere in North America. We hope to fully respect the ancient tradition while, in our own small way, encouraging it to adapt -- as it has always done -- to suite our latter day tastes.
Afan has much for which to be thankful, and many family and friends who deserve our heartfelt gratitude. These thanks stretch across much space of oceans, deserts, lakes, and forest, and reach across generations of our own and of others, past, present, and future, to embrace all in our music and the love we feel for them and it. That said, special thanks to Kyle Harris, Cave of Sorrows Recording Studio ; John Piggott our lost and lamented harper; Mary Gilchrest, our splendid guest performer whose warm-up take would have been good enough to record and to all the dancers everywhere.
All selections arranged by Afan.
Follow us at our website: www.afanmusic.com
A product of Wet Wool Records
Recorded at Playr Studios, Phoenix, AZ
Mastered by Bob Olsshen, Nashville, TN
Cover Photograph by Alexis XXXXX
Graphic Design by John Murdock, and Kevin King
Printing and Pressing by Oasis CD, www.oasiscd.com
Copyright 2003, All rights Reserved
...